Donald Trump wants a tax cut. But big companies already pay far less than the corporate tax rate.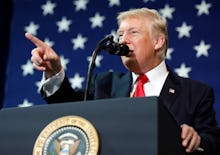 This is Mic's daily read on Donald Trump's America. Want to receive this as a daily email in your inbox? Subscribe here.
Every day, we bring you a dispatch on Trump's America. Today's focus: Tax reform.
Thursday's Dispatch: Where the truth lies in Donald Trump's tax reform pitch
During a speech on tax reform on Wednesday, President Donald Trump recalled memories of President Ronald Reagan's rewrite of the tax code in the 1980s.
"In 1986, Ronald Reagan led the world by cutting our corporate tax rate to 34%," Trump said in his Springfield, Missouri, speech. "Over the past 30 years, the average business tax rate among developed nations fell from 45% to less than 24%. ... They are taking us, frankly, to the cleaners. So we must — we have no choice — we must lower our taxes."
This is core to Trump's pitch that the tax rate on corporations be lowered from 35% to 15%. But while 35% is indeed among the highest in the developed world, it is actually nowhere near what most companies pay.
In 2016, the nonpartisan Government Accountability Office found at least two-thirds of corporations did not pay any federal income tax between 2006 and 2012. One-fifth of America's largest corporations who reported a profit in 2012 paid no income tax that same year.
A study released earlier this year found the effective tax rate for Fortune 500 companies that are consistently profitable is 21.2%. Eighteen of the more than 250 companies analyzed paid no corporate tax over an eight-year period; 48 paid less than 10%.
In fact, as Trump argues American companies leave the U.S. because of high tax rates, the percentage of federal revenue coming from corporations has fallen by two-thirds since 1950.
The U.S. still has one of the world's higher corporate tax rates, but not to the extreme degree Trump has consistently alleged. American companies actually pay slightly less in overall taxes than companies in comparable countries.
Google paid less than 17% in 2015 and large drug manufacturers paid even less. General Motors even paid a negative 34.3% tax rate.
How do companies pull this off? Deductions and tax breaks.
According to a Center on Budget and Policy Priorities study, while the corporate income tax in 2016 raised $300 billion in revenues, "targeted subsidies delivered to companies through the corporate tax code cost about $270 billion."
It's also worth noting that a corporate tax rate of 15% is seen as a nonstarter in Congress. Republicans would be hard-pressed to fund a deficit-neutral tax plan with that low a tax rate, and Democrats would never support it.
The upshot of this is asking whether the estimated cost of Trump's tax plan — $2 trillion over a decade — is worth it. There's little evidence to suggest it would bring companies, particularly the blue-collar employers Trump hopes for, flooding back into the U.S.
Today's question: Do American corporations deserve a tax cut? Or are they already getting a good deal? Please email us at trumpsamerica@mic.com.
Thursday in Trump's America:
Explosions and black smoke have been reported at a chemical plant outside of Houston. Sheriff's deputies were taken to the hospital after inhaling fumes early Thursday morning. Vice President Mike Pence will travel to Texas on Thursday.
The death toll from Harvey has passed 30, with more expected. In a state known for its independence, Texas is about to enter a long period of support from the federal government. And here's why Houston's leaders bear at least some responsibility for the storm's severity.
House conservatives wanted to cut $1 billion from disaster relief programs to help fund Trump's wall. Harvey is complicating that plan. Plus, Harvey may increase gas prices. And here are the right-wing media narratives about Harvey, including false reports, to watch out for.
A new poll says most Americans do not approve of Trump pardoning Joe Arpaio, and most do not want him to end the Deferred Action for Childhood Arrivals program.
Tomi Lahren, the right-wing star who went viral supporting conservative causes in "Final Thoughts," has joined Fox News.
There's a movement to boycott the NFL until someone hires Colin Kaepernick.
The Affordable Care Act didn't collapse as Trump said it would. Now, his administration wants to stabilize struggling marketplaces — but will not say how.
Today's MicBite:
Common explains his work focused on reforming the criminal justice system to Mic. Tap or click the video to watch.