Congress returns from recess on Tuesday. Here's what's on its plate.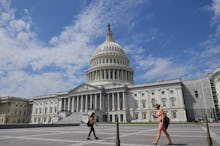 Congressional lawmakers return to the Capitol on Tuesday after a month-long recess and will immediately be hit with a series of deadlines that, if missed, would cause the government to shut down and the country to default on its debt.
The House has just 12 legislative days to come up with a funding deal to keep the federal government's lights on before the current spending package expires at midnight Sept. 30.
The government is also expected to reach its debt limit one day earlier, on Sept. 29. If Congress doesn't raise the debt ceiling before then, the government would default on already promised payments.
Also plopped on Congress' already full plate is a much-needed disaster relief package for the damage Hurricane Harvey inflicted in Texas and Louisiana.
The Federal Emergency Management Agency has $2.8 billion in its Disaster Relief Fund, with a little less than half available for use on Harvey-related needs, according to Politico.
But the damage Harvey wrought is expected to be exponentially greater than that, possibly reaching $190 billion, according to preliminary estimates from AccuWeather. That would make Harvey the costliest natural disaster in U.S. history, more than the damage from Hurricanes Sandy and Katrina combined.
These three priorities are likely to both consume Congress' docket in September and complicate President Donald Trump's own agenda — especially funding for his long-promised Mexican border wall.
Trump has said he's ready to shut down the government to ensure he gets that wall funding. Yet a large chunk of that down payment — more than $875 million — was set to come from FEMA's Disaster Relief Fund.
Harvey has made those budget cuts politically untenable.
Conservative lawmakers, once raring for a shutdown showdown over wall funding, appear to be backing down from that fight in Harvey's wake. They say they'd rather pass a short-term funding deal and revisit the battle in December.
As for the debt limit, Treasury Secretary Steve Mnuchin said he's "100% confident" Congress will increase federal borrowing thresholds.
"I think there is no scenario where the government won't be paying its bills," Mnuchin said at an Aug. 25 press briefing at the White House.
The debate over a Harvey relief package will is also expected to consume lawmakers, with some Republicans saying relief funding will come in waves rather than one massive aid bill.
The gradual release of aid funding could help insulate GOP lawmakers from charges of hypocrisy, given that many congressional Republicans — including Texas lawmakers now seeking aid from Harvey — voted against an aid package for Hurricane Sandy relief in 2013.
"My view has always been that multiple bills are fine, but you're better off to pass multiple bills knowing what the costs are [rather] than some number that no one can really justify. Years later, we are still trying to figure out how to spend all this Sandy money," Sen. Roy Blunt (R-Mo.) told reporters in the Capitol on Tuesday, according to Politico.