It's time to appreciate Issa Rae for the style icon she is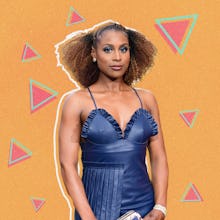 On very rare occasions, we are blessed with a celebrity that is just as effervescent and smart and funny as they are inexplicably fashionable. Lucille Ball. Eartha Kitt. Gilda Radner. Tracee Ellis Ross.
And, yeah, Issa Rae.
Though she's most widely known now for starring in, writing for and producing the HBO series Insecure, she's also become a force of nature on the red carpet, with appearances at the Golden Globes, the BET Awards and her own premiers that prove just that.
Her character on Insecure might be most attracted to graphic, politically aware T-shirts, but on red carpets, she's mostly bold and experimental. She's wearing super-bright colors, leather and glitz. She's wearing body-hugging white gowns and lust-worthy jumpsuits.
"Issa's persona is very much herself," Ayanna James, Rae's stylist and Insecure costume director, said in an interview. "Styling her, I don't try to make her something she's not. I love who she is. Whatever I put her in, it has to feel like who she is. She doesn't do a lot on the red carpet. She doesn't go on a red carpet and pout and be someone who she's not."
The girl has just simply got it going on, so here's an appreciation of her best looks thus far.
A style icon is born at the Golden Globes
Now this dress, by Christian Siriano, is when her status as a style icon was solidified.
Wrapped in graphic beading, in dramatic white, Rae looked absolutely phenomenal at the Globes this year, from her hair to those rings and that clutch.
And this was just the beginning, really.
... and at the Golden Globes after-party, too
After the Globes, Rae then changed into this fun little jumpsuit, the resident cool girl's uniform, by Juan Carlos Obando. Honestly, who doesn't want to be draped in satin after your first big awards show?
Bright and fun at the NAACP Image Awards
Now this is a different vibe entirely. This look is natural and dreamy and almost springtime-y, despite it being February.
But anyway, between the braids and this sweet little graphic Stella Nolasco dress, which looks like it has embroidered flowers all over it, this look is quintessential Rae because it is young and bright and honestly looks like an easy, comfy look.
Highlighting an African designer at the American Black Film Festival
So this look, by the Nigerian designer Lisa Folawiyo, shows off a facet of Rae's wardrobe that feels particularly great.
Rae and her stylist James try to highlight black or African designers as much as possible not only on Insecure, but via Rae's own red carpet appearances, too. This dress, with its vibrant pattern and colors and unique silhouette, is just one example of this.
A little sex appeal at the Essence Black Women in Hollywood Awards
Here's Rae channeling the spirits of Dorothy Dandridge and Rita Hayworth. For the Essence Black Women in Hollywood Awards this February, during which she'd nab the Vanguard Award, Rae slipped into a see-through dress by Francesca Miranda with lace appliqué and tulle.
Girl looked good as hell and held her own amongst the night's other attendees, like Janelle Monáe, Yara Shahidi, Angela Bassett and Tracee Ellis Ross.
An important graphic T-shirt moment
Issa Rae's character on Insecure, also named Issa, is known for her graphic T-shirts that send a culturally poignant message, from a picture of Harriet Tubman to one honoring the Last Poets, a group of poets and musicians that came out of the 1960s civil rights movement.
That habit is one of Rae's, too, apparently, because she wore this rather fantastic "For Sade" T-shirt, in honor of the musician and goddess Sade.
It retails for $38.
A blue leather moment at the MTV Movie & TV Awards
Honestly, how cute is this? This dress, a blue leather number from the very trendy label Off-White, is modern and young and perfectly formed to Rae's body.
That hair and eyeshadow are perf, too.
A little color and leg at the BET Awards
This outfit is also too good, and something that perhaps only Rae would be able to pull off.
To get specific here, this is a look from Balmain, the designer most known for working with the Kardashian-Jenners a whole lot. And while Rae is very, very different from that family, this outfit — with its bold pattern and colors — is right up Rae's alley.
Casual and cute for an Insecure block party
To celebrate the second season premiere of Insecure earlier this summer, Rae rocked a pair of ripped jeans and a long, graphic striped top. We have no idea who the designers are for this look, but we love it.
Two fabulous, shimmery get-ups for Black Girls Rock!
Now for perhaps her most fabulous looks yet, she wore two different very sparkly outfits for Black Girls Rock! this year. The first look, which she wore on the red carpet, had her in a dress from LeiLou by Alex Doj?inovi? and draped in multicolored crystals, and it was a bit see-through too.
The second look (from a designer we can't yet identify) was more refined and sophisticated, with a pair of satin pants and a shimmery, loose top.
Both were very Diana Ross.
As exhibited by all of these looks above, Rae has fun with clothes, unabashedly experimenting with prints and different designers and silhouettes. You never know what you're gonna get from her. Her look could be glamazon or old Hollywood or casual and cute on any given day.
As James said about styling her, "She's just gonna wow you with her amazing style and go about her day. It's a lovely dance that we do."
Indeed.