Featuring new styles and patterns, the RompHim 2.0 is here and ready to be taken seriously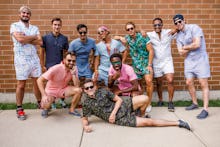 The creators of the most polarizing garment in 2017, the RompHim, are still trying to win you over. And after the initially heated and conflicted response from the internet — and even us — it seems they've learned a lot.
"You really do only get one shot at a first impression, and that impression is formed incredibly quickly," Daniel Webster-Clark, cofounder of ACED Design, which created the RompHim, said in an interview with Mic. "While our Kickstarter marketing materials accurately captured a few of our core principles ... it failed to accurately reflect all of our founders' values as well as what we hope our brand will stand for, especially with respect to inclusivity and how we aspire to provide all types of individuals with a means of self-expression."
Now comes RompHim 2.0, another collection of RompHim styles that refine the garment a bit. The new prints are richer and far more wearable. They're all available in sizes up to XL, too, with an XXL finally in the works.
"We always had our eyes on expanding the option set, so that everyone had a style they were super excited about rocking and felt like really fit their personal style," Webster-Clark said. "As we began working with new manufacturing partners, we also expanded our ability to develop custom prints and experiment with some variety in the detailing. We think that these six newest styles will bring in a whole new set of people interested in romping for the first time as summer ends and fall begins. As we've learned, RompHim season never ends."
The six new styles include a few wild ones: a jungle print, a tree print and a cactus print. But there's also tamer, more sophisticated options, like the green oxford, blue oxford and black chambray.
RompHim isn't stopping here. While this collection will launch Sept. 5 — with the team focused on shipping all of its Kickstarter pre-orders before these new styles drop — the creators already have their sights set on expansion.
"We are going to continue to push the boundaries of conventional fashion, both within and outside of menswear," Webster-Clark said. "We're looking forward to releasing our first expansion outside the RompHim silhouette and will be sharing more about that effort as soon as it's ready for public consumption. One of the things we've loved about the support we've seen is that our fans are a passionate bunch and not shy about sharing their input. We read it all and are always looking to incorporate what we can into our next big moves."
With an expansion coming, you may be wondering just how successful the RompHim has been. According to Webster-Clark, ACED Design has sold more than 4,500 RompHims so far.
"We're still only now starting to master the ins and outs of what it takes to turn that idea into a product at a large scale and run a full-fledged business," Webster-Clark said. "The team has had a crazy summer, but it's been a great experience that we wouldn't trade for anything."