State Department forces closure of Russian diplomatic hubs in US in retaliatory move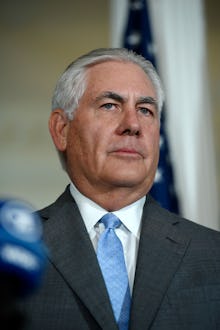 The State Department on Thursday announced that it will force the Russian government to close three diplomatic locations in the United States, in response to the Russian government's decision to expel 755 U.S. diplomats from Moscow in July.
The State Department said the U.S. is forcing the closure of the three locations — a consulate general in San Francisco, a chancery annex in Washington, D.C., and a consular annex in New York City — in "the spirit of parity."
In announcing the decision, the State Department called Russia's expulsion of 755 U.S. diplomats "unwarranted and detrimental to the overall relationship between our countries."
The release went on to say that "in the spirit of parity invoked by the Russians," the State Department is mandating that Russia close those three diplomatic locations by Sept. 2.
The State Department's decision to close Russian diplomatic locations in the U.S. is at odds with the message President Donald Trump sent after Russia expelled the U.S. diplomats.
"I'm very thankful that he let go of a large number of people because now we have a smaller payroll," Trump said on Aug. 10 of Russia's move — a retaliation over new economic sanctions on Russia imposed by Congress.
"There's no real reason for them to go back," Trump added. "I greatly appreciate the fact that we've been able to cut our payroll of the United States. We're going to save a lot of money."