Months after promising to treat young undocumented immigrants "with great heart," Trump ends DACA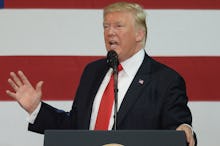 Months after vowing to treat recipients of the Deferred Action for Childhood Arrivals program "with great heart," United States Attorney General Jeff Sessions announced Tuesday that President Donald Trump would end the initiative, which allowed young undocumented immigrants to stay in the United States without fear of deportation.
According to the announcement, Trump will institute a wind down period for DACA, allowing Congress to potentially use that time towards developing a legislative solution to end the program. Until that time, DACA recipients will be allowed to remain in the United States.
In a conference call with press, a White House official said Tuesday that, once the program officially ends, former DACA recipients will be treated "like any other person in the country illegally."
In 2012, former President Barack Obama implemented DACA to allow an estimated 800,000 recipients to live and work on U.S. soil without fearing deportation at any moment. An analysis from the Center for American Progress, a left-leaning policy think tank, warned that the U.S economy would suffer if hundreds of thousands of DACA recipients were forced to leave the nation's workforce — to say nothing of the immeasurable toll that deporting almost a million people would exact on those individuals and their families
Trump's decision, a stunning reversal on his assurance that DACA recipients need not worry about their ability to remain in the United States, appeared to have been forced by the more xenophobic contingent of his party. In late June, 10 Republican state attorneys general and one governor wrote a letter to Sessions threatening to sue the federal government if the White House did not immediately end DACA.
The White House' announcement halting the program comes just hours before the attorneys' deadline.
The end of DACA, a keystone of Obama's legacy, marks Trump's fulfillment of a promise he first made while campaigning for president. However, those supporters who believed Trump would keep that promise may have felt resentment when, shortly after his inauguration, the president signaled that he might waiver on his commitment to curb illegal immigration.
DACA recipients "shouldn't be very worried," Trump said during an interview with ABC's David Muir shortly after becoming president. "We're looking at this, the whole immigration situation; we're looking at it with great heart."
According to Chris Chmielenski, director of content and activism for Numbers USA — an advocacy group seeking to drastically curb immigration — Trump "turned his back on the base" when the president did not immediately end the program.
"This is something that he has absolutely turned his back on the base on," Chmielenski told McClatchy's Washington Bureau Thursday. "I can't say it enough. He promised to do it and he has not done it yet."
But though many in Trump's base may be delighted over the news of DACA's imminent end, some progressive politicians roundly denounced the president's decision.
Independent Senator Bernie Sanders called it "one of the ugliest and cruelest decisions ever made by a president in modern history."
New York Democratic Governor Andrew Cuomo vowed to sue the Trump administration over the decision, which he characterized as a demonization of diversity.
In a statement, Democratic House Minority Leader Nancy Pelosi called the end of DACA "pure political cowardice."
September 5, 2017 11:16 a.m.: This story has been updated.