White House: Trump will give $1 million of his own money to the Harvey relief effort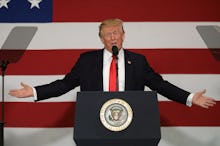 White House press secretary Sarah Huckabee Sanders announced Thursday that President Donald Trump would pledge $1 million of his own personal money to the relief effort for Harvey, a storm that made landfall Friday in Texas as a Category 4 hurricane.
"I had a chance to speak directly with the president earlier, and I'm happy to tell you that he would like to join in the efforts that a lot of the people that we've seen across this country do, and he's pledging a million dollars of personal money to [Harvey relief]," Sanders said.
In a sharp turn from the White House's antagonistic relationship with the press, Sanders praised the media for its diligence in reporting on now-tropical storm Harvey, adding that because of their work on the story, Trump was now seeking their guidance on which charity should receive his donation.
"He actually asked that I check with the folks in this room, since you are very good at research and have been doing a lot of reporting into the groups and organizations that are best and most effective in helping and providing aid, and he'd love some suggestions from the folks here," Sanders said.
This isn't the first time Trump has used the national spotlight to pledge vast sums of his own money to charity. In January, Trump told a crowd in Des Moines at a televised fundraiser for veterans that he had donated $1 million of his own money.
However, it wasn't until the Washington Post investigated the claim that Trump actually donated the money.
Back in 2012, Trump — then still a reality television star — promised former President Barack Obama $5 million to a charity of Obama's choice if he could produce his long-form birth certificate.
"If Barack Obama opens up and gives his college records and applications, and if he gives his passport applications and records, I will give to a charity of his choice — inner city children in Chicago, American Cancer Society, AIDS research, anything he wants, a check, immediately, for $5 million," Trump said in a now-deleted YouTube video.
Though Trump announced in September that he now believed Obama was born in the United States, it is unclear whether he ended up giving that large sum to a charity of Obama's choosing.
At least 31 people have died since Harvey slammed the Texas Gulf Coast on Friday. According to one estimate, the storm is expected to cause up to $40 billion in damage.