After endorsing single-payer health care, Kamala Harris finds that her critics suddenly soften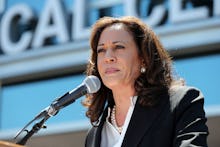 Over the past month a contentious debate has roiled in left-leaning political circles about the progressive bona fides of Democratic rising star Kamala Harris.
Critics — almost all from the more populist, left-leaning side of the party aligned with Sen. Bernie Sanders — called her too cozy with Wall Street, and said she had shown insufficient commitment to populist economic issues.
Then came this Wednesday tweet from Harris: "I intend to co-sponsor the Medicare-for-all bill because it's just the right thing to do." Her fellow sponsor will be Sanders.
Now, some of those same Harris critics are adopting a different narrative.
"It's always wonderful when our elected leaders choose to lead from the right side of history," Nomiki Konst, a Sanders supporter and member of the Democratic National Committee's Unity Commission, said in an interview. "The Democratic Party should be at the forefront of dealing with the consequences of income inequality and following Sen. Harris' lead in backing single payer, which will save millions of Americans lives and prevent them from crushing debt."
Winnie Wong, co-founder of the group People for Bernie, was similarly enthusiastic, but credited the Sanders movement with creating the conditions for growing single-payer support.
"This is a clear example of how effective the grassroots have been at pushing Democrats to fight for the public good," Wong said in an email. "Healthcare is a human right and it's the litmus test that every single Democrat must pass. Kamala Harris understands the urgency of this political moment and people can see that. They, and I, look forward to seeing her see this all the way through."
In July, Konst and Wong were among those who expressed great skepticism of Harris, who many are touting as a possible presidential candidate in 2020. The criticism sparked fierce backlash from Harris supporters, who claimed her record was being misrepresented and implied their criticisms may have been racially motivated.
Harris actually had previously expressed support for single-payer health care. But, to her critics, co-sponsoring the Senate bill is a way of putting her money where her mouth is.
Wong's credit to grassroots activism is not unfounded. Just last year, the position of the Democratic Party's eventual presidential nominee, Hillary Clinton, was that a Medicare-for-all health care system would "never, ever come to pass."
Since the election, several of the senators who are rumored contenders for 2020 — Sens. Kirsten Gillibrand (D-N.Y), Cory Booker (D-N.J.), and Elizabeth Warren (D-Mass.) — have paid some lip-service to a Medicare-for-all system, a shift in messaging for all three. Harris, is the first of that crop to actually co-sponsor a bill.
Not all of Harris's critics were as impressed by the move. RoseAnn DeMoro, head of nurses union National Nurses United and a staunch Sanders supporter, said she was "encouraged" by the recent success of the single-payer movement, but was quick to turn the conversation back to the fight in Harris's home state of California over that state's stalled universal health care bill.
"I believe that most Democratic senators will sign on to the bill," DeMoro said in an emailed statement. "Do they also share Sen. Sanders' view that we should take private insurance companies out of the health care system whose only function is to try to make as much profit as they can?"
But she was skeptical that Democrats would continue to support single-payer "when there is a Democrat who can sign the bill." She criticized Democrats in the California Assembly who are holding up a single-payer bill in the state. DeMoro and her organization have been heavily involved in the effort in the nation's most populous state, though some on the left, including some supporters of single-payer health care, argue that budgeting constraints in the California state constitution make the effort unworkable.
Representatives in Harris' office did not return multiple requests for comment.