'Hot Mic' podcast: chemical plant near Houston in danger of exploding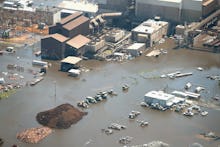 Listen and subscribe to the Hot Mic podcast from your mobile device:
Here are the important stories to know for Friday, September 1:
1. A chemical plant just outside Houston is in danger of exploding.
2. The State Department has announced that it will force Russia to close three diplomatic locations in the United States.
Direct from Mic's newsroom, Hot Mic keeps listeners informed with a daily run-down of top stories, breaking news and analysis from our news team.