Get medical records for free in 5 easy steps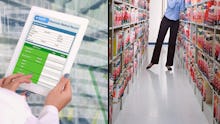 Perhaps your doctor retired, you're moving to a new city or you simply decided to finally switch to a caregiver who is a better fit. Now, you need to get ahold of your old medical records. No idea where to start? The good news is, getting a copy of your medical history is actually your legal right under the Health Insurance Portability and Accountability Act of 1996.
Still, just because you're entitled to do something doesn't mean it's simple or easy. You may have multiple doctors and records from lots of different providers — and getting access to records from all of these different sources can be a big undertaking. It can also come with costs, as many providers charge a fee for records.
Now, more and more providers are switching to electronic health records, which makes the process easier, but if any of your records are still on paper, you'll have to follow a few more steps. To help you get your records for free — or at least in as cost-effective a way as possible — consider these five key tips.
1. Know your rights
Federal law entitles you to get copies of the majority of your medical records, including medical tests, lab results, billing information and more, according to health information site Very Well. Care providers are allowed to charge fees for providing your records, but cannot withhold your records just because you did not pay for the medical services you received; if you pay a fee to get your records, providers also cannot apply that fee to your unpaid healthcare bill and then deny you your records, according to Health and Human Services.
That said, while you can access most of your records, there are some limitations: For example, you cannot obtain information that was compiled for use in a lawsuit; records which could put you in danger; or notes taken during psychotherapy.
You'll also need to make sure you ask for records correctly. Typically, the process of requesting records involves submitting a Patient Access Request with the individual provider (aka doctor) you want records from, and providing proof of who you are — since your records must be kept private and cannot be released to just anyone.
You may also have to wait before you are able to obtain records, with state law determining the time limit care providers have to provide your records. Some states require your doctor to provide immediate access for review within the office, while others set maximum waiting periods of around a month, according to Very Well.
2. Find out if your care provider offers Blue Button
Blue Button provides a streamlined — online — way to access your health records from participating providers. Doctors, drug stores, health insurance companies and labs can all participate in Blue Button, according to Health IT.gov.
The Veterans' Administration is a Blue Button participant, as is Medicare and numerous private providers. The government website listing apps with Blue Button functionality is no longer being updated as of May 2017, but apps can still be accessed.
If your care provider offers Blue Button, just click on the blue button after signing into your patient account to download records. For example, the VA makes information on immunizations, lab results and hospital admissions accessible via Blue Button, along with other information about your health history.
3. Inspect but don't obtain your records
Need to save money? While care providers are allowed to charge a fee if you request a copy of your records, they cannot charge you if you just ask to review and inspect your records, according to HHS.
While you're inspecting your records, you are allowed to take notes. HHS explains that you are even allowed to use a smartphone to take pictures of your records or to make copies of your records using your own resources — and you cannot be charged for doing any of these things.
"If the individual is making the copies of PHI using her own resources, the covered entity may not charge a fee for those copies, as the copying is being done by the individual and not the entity," the HHS website states.
4. Get electronic copies of your records
If you want a physical copy of your records, rather than a picture or copies you make yourself, you can limit the amount you must pay by asking for electronic copies only, rather than physical copies.
HIPPA allows providers to charge "reasonable, cost-based fees," for providing records, and covered providers are allowed to calculate these fees using different methods such as assessing actual costs or using average costs. However, as HHS said, covered entities can charge a flat fee of up to $6.50 total for electronic copies of all electronically-maintained personal health records.
Always ask for your costs upfront to be sure. Many providers don't want to go through the trouble of trying to use average cost or actual cost formulas, so they just charge this $6.50 fee. But there is no guarantee that $6.50 is all you'll be charged — especially if your request is complicated or time-consuming for your provider to fulfill.
5. Ask your current doctor to obtain your records for you
If you're asking for your records because you're switching doctors — and you want your new physician to have information about care you received in the past — have your new caregiver ask your old providers for the records directly. This may allow you to skip out on paying fees some facilities charge for records, though again, you should always ask.
"Oftentimes facilities will waive the fee if the information is being sent to another provider for use in continued care. However, the same facility may charge a fee if the patient requests a personal copy of the record," according to the Journal of AHIMA.
Your new caregiver will also know exactly what to ask for, since medical records may be hundreds of pages long. After all, there might be no sense in getting irrelevant old records that your doctor doesn't need if you're just trying to make sure you get good continuity of care.
Sign up for the Payoff— your weekly crash course on how to live your best financial life.