Vivienne Tam, whose Spring 2017 runway was devoted to Houston, on what the city means to her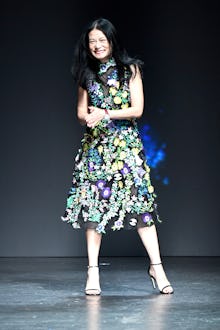 This time last year, ahead of her spring 2017 show at New York Fashion Week, designer Vivienne Tam was putting the finishing touches on her collection, which was like a love letter to the city of Houston.
Jackets and dresses came down the runway with NASA patches, a nod to the city's own NASA space center, and there were plenty of references to rodeos, from fringe to denim to studded belts. Even butterflies, which are plentiful in the area, made their way in.
So you must imagine that now, after Hurricane Harvey's left the city under water, it's all weighing heavily on Tam.
In an interview with Mic, Tam revealed that Houston became the inspiration for her collection after she felt moved by the warmth of its people, after just one trip.
"Houston means a great deal to me. I fell in love with the city and its people when I went there last year," Tam said. "I was deeply affected by the warmth and entrepreneurial spirit of the people of Houston. Its diversity and rich cultural heritage form a beautiful mosaic, which became the inspiration of my spring 2017 collection."
With fashion designers, like Diane von Furstenberg and Naeem Khan, just starting to speak up about the hurricane now, Tam said that more in the industry should be trying to help in any way they can, and she's planning on doing something specific to help herself.
"Collectively and individually, we should all find a way to help the people of Houston," Tam said. "I am working on a plan to do just that. It will be revealed later."
With the city largely devastated and some inhabitants left with absolutely nothing, Tam has just one thing to say: "Houston, we love you, and we are with you!"