At New York Fashion Week, a blue ACLU ribbon is set to make a statement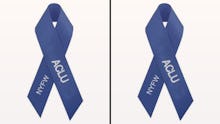 At New York Fashion Week in February, fresh off the Women's March and Trump's inauguration, the Council of Fashion Designers of America teamed up with Planned Parenthood and distributed bright pink pins that read "Fashion stands with Planned Parenthood" in an effort to raise awareness, and funds.
The pin ended up on the likes of Anna Wintour, designers like Diane von Furstenberg and Adam Selman, and the CFDA announced that civic responsibility is an important pillar to the organization.
This NYFW, which is set to start on Sept. 7, they're keeping that up. Following many legal battles won by the American Civil Liberties Union against Trump administration policies, the CFDA has partnered up with the ACLU for "Fashion for ACLU," and created a blue ribbon for designers and NYFW attendees and models and even PR people to wear.
"Fashion for ACLU was born out of the fashion community's sense of urgency to stand up for American civil liberties that are at risk today," Kristine Keller, the associate director of strategic partnerships at the CFDA, said in a statement to Mic. "Given the engagement and awareness that CFDA's partnership with Planned Parenthood created, we knew that we had a platform, especially during NYFW, to promote the work that the ACLU is doing."
In the announcement earlier this week, CFDA president Steven Kolb said that this was about the fashion industry wanting to be "on the front line, not the sidelines."
"The ACLU is committed to important advocacy work to end mass incarceration, promote racial justice, fight against voter suppression, advocate for women's rights, LGBT equality and immigrants' rights," Keller said. "These have all been areas in which our industry has expressed interest, some directly impacting the industry itself."
And so this blue ribbon, which is similar to the ACLU ribbon you probably saw pinned in gowns and tuxes at the Oscars, will be passed out to designers, fashion show guests, PR agencies and more. In fact it's already been passed out to more than 50 participating designers, including Adam Selman, Derek Lam, Diane von Furstenberg, Narciso Rodriguez, Prabal Gurung, Public School, and Tracy Reese.
"The special edition ACLU/NYFW blue ribbon comes affixed with an information card providing details about ACLU's work, ways to promote the campaign on social media, and how to donate," Keller said. "This campaign is an education on ACLU's work as well as platform for designers to get involved. Much like Planned Parenthood's campaign, designers expressed interest in the ACLU, which created an organic launching pad for the initiative."
Lyft is also taking part of this partnership, with a promotion that the company will donate $5 to the ACLU for every ride to and from NYFW events, up to $10,000, when the passenger uses the code "FashionStands."
This partnership continues fashion's strange dance with the Trump administration. Before Trump even came into office, designers were speaking out against ever dressing the Trump family. And since then, designers have been outspoken about things like Trump's call to ban transgender troops, Trump's travel ban and Trump's comments on Charlottesville.
Just goes to show that in our culture today, even fashion is feeling compelled to take a side, and not just sit around and look pretty.