Business leaders to Donald Trump: "Preserve the DACA program"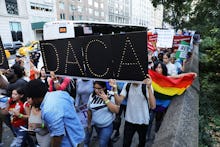 The leaders of some of the country's largest companies are sending a public message to President Donald Trump: Don't end DACA.
Hundreds of CEOs signed a letter Thursday extolling the virtues of the Deferred Action for Childhood Arrivals program, which allows undocumented immigrants who were brought to the United States as children to remain in the country and receive work permits.
The letter came the same day reports surfaced that Trump was set to phase out the program, which could lead to deportation for nearly 800,000 DACA recipients, known as Dreamers.
"Dreamers are vital to the future of our companies and our economy," reads the letter, which was signed by the CEOs of major companies including Amazon, Apple, eBay and Facebook, among many others. "With them, we grow and create jobs. They are part of why we will continue to have a global competitive advantage."
The letter went on to implore Trump to "preserve the DACA program" and called on Congress to pass the Dream Act, a bipartisan piece of legislation that would provide the recipients with a path to citizenship, assuming they meet certain criteria.
White House press secretary Sarah Huckabee Sanders said Thursday that Trump has not yet made up his mind on whether to end the DACA program, which former President Barack Obama created in in 2012.
"This is under review," Sanders told reporters at a news briefing. "There are a lot of components that need to be looked at, and once a decision is made we will certainly let you guys know."
However Ken Paxton, the attorney general of Texas, said he is sticking to a Sept. 5 deadline for Trump to end the program before Paxton filed a lawsuit.
"The court-ordered deadline in DACA was set several weeks ago, and we are completely prepared to comply with it on Sept. 5," Kayleigh Lovvorn, a Paxton spokeswoman, told the Texas Tribune.