Al Sharpton: Democrats need to dramatize their differences with Trump, not just talk about them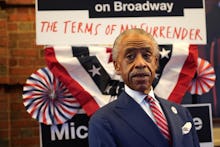 "I have fought with Donald Trump for 35 years," the Rev. Al Sharpton said in a phone interview. "He only understands fighting, and you have to go toe-to-toe with him."
"But the Democrats are afraid of getting hit," he said, "so they don't really fight."
Sharpton, who hosts PoliticsNation on MSNBC and the nationally syndicated Keepin' It Real radio show, said the Democrats' media missteps were on full display in the days following the attack in Charlottesville, Virginia. Party leaders became far too fixated on Trump's statements, Sharpton said, without crafting a credible response of their own.
"Just making statements responding to Trump without dramatizing the difference means you don't break through the news cycle," Sharpton said. "They had an opportunity to dramatically show the difference between Democrats and Republicans. They didn't."
Sharpton, who recently led a thousand-minister march in front of the Justice Department in Washington, D.C., to protest hate crimes and mass incarceration, said party leaders should have devised a similar display of unity in the wake of Charlottesville by standing arm-in-arm with civil rights leaders, as well as Jewish and Muslim faith leaders. That kind of symbol, Sharpton said, would have sent a message: "This is who we are, while that is who the president identifies with."
It's already been a bumpy road for Democrats as they struggle to find their voice — or one voice — in the Trump era, and at the center of their problems is a heated, ongoing debate about strategy. Should the party lean into "identity politics" issues to energize its base? Or should it pivot to an economic message to try winning back white working-class voters who flipped for Trump?
The unveiling of the party's new, much-maligned slogan — "A Better Deal: Better Jobs, Better Wages, Better Future" — suggests the party has settled on the latter. But Sharpton, one of the country's foremost civil rights activists and a close ally of former President Barack Obama, thinks that strategy couldn't be more flawed. "If the Democrats think they are going to get the Archie Bunker vote," he said, "not only will they lose, but turnout from their base will also come down."
"The party would be making a very serious error to run away from representing constituencies that have historically been the ones receptive to their message," he said.
At the root of Sharpton's critique is a fear that the party will abandon people of color (and in particular black voters) as it contorts itself in pursuit of white working-class voters in the Midwest. After all, Sharpton pointed out, Hillary Clinton only lost the popular vote in Michigan by approximately 11,000 votes — which she could have easily made up in Democratic-leaning cities like Detroit, had her campaign invested more resources there.
While Sen. Bernie Sanders' populist message clearly resonated with the electorate, Sharpton said, he also failed dramatically to connect with black voters, and that's something the party will have to grapple with if it begins to embrace more of his ideas.
"Bernie has to ask himself why he lost in every black community," he said. "And his people have to understand that when you talk about Wall Street and Main Street, black Americans aren't on either. We're on Martin Luther King Boulevard in Harlem."
Sharpton identified a few bright spots that have emerged in the party since Trump took office: Rep. Maxine Waters, who he noted has been one of Trump's most outspoken critics, and Sens. Kamala Harris and Al Franken, who both generated headlines for asking tough questions during the recent Trump-Russia congressional hearings.
But Sharpton said he's still looking for the Democrats as a whole to embrace racial justice issues and the fight over Confederate statues head-on. "You can't let them define the debate," he said about conservatives like former Trump strategist Steve Bannon, who said in an interview that he relishes a debate with liberals about race because it turns off white voters.
"Robert E. Lee killed American Union soldiers in the name of an insurrection against this country," he added. "That's who you want to make a symbol of your party? Fine. MLK and the Kennedys and Roosevelts are the symbols of ours."