Could Trump's threat to end DACA be the thing to finally spur congressional immigration reform?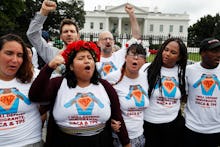 The potential for President Donald Trump to end the Deferred Action for Childhood Arrivals program may spur something for which activists have been clamoring for decades: congressional immigration reform.
After reports surfaced that Trump is likely to end DACA, which allows undocumented immigrants who came to the U.S. as children to legally live and work in the country, prominent Republicans came forward to try and dissuade Trump from that decision.
During a Friday interview with radio station WCLO in Janesville, Wisconsin, House Speaker Paul Ryan said he's had "plenty of conversations with the White House" urging administration officials not to end DACA, which could result in the deportation of nearly 800,000 people.
"There are people who are in limbo," Ryan said of DACA recipients. "These are kids who don't know other countries, who were brought here by their parents and don't know another home, and so I really do believe that there needs to be a legislative solution."
Bipartisan legislation that would allow undocumented immigrants who were brought to the U.S. as children to legally stay in the country, receive an education and work has been around since 2001.
Sen. Orrin Hatch (R-Utah) introduced the DREAM Act back in 2001 alongside 18 other senators from both sides of the aisle, but the bill never went anywhere. It's been reintroduced a few other times since then, including in June by Sens. Lindsey Graham (R-S.C.) and Dick Durbin (D-Ill.).
Ultimately, it was "the inaction of politicians" that spurred former President Barack Obama to create the DACA program in 2012.
"Effective immediately, the Department of Homeland Security is taking steps to lift the shadow of deportation from these young people," Obama said in a 2012 Rose Garden speech announcing DACA. "Over the next few months, eligible individuals who do not present a risk to national security or public safety will be able to request temporary relief from deportation proceedings and apply for work authorization."
Trump's flirtation with ending the program is now leading conservative Republican lawmakers to draft legislation to try and protect DACA recipients.
The McClatchy Washington Bureau reported Friday that Sen. Thom Tillis (R-N.C.) and other Republicans are drafting legislation that would give immigrants who entered the U.S. without documentation before Jan. 1, 2012, at the age of 16 or younger, an eventual path to citizenship.
With so much on its plate in September, it's unclear whether the Republican-controlled Congress will be able to juggle an immigration bill at the same time. But since polling shows DACA is popular, with nearly two-thirds of Americans supporting young undocumented immigrants remaining in the U.S., it's possible Trump's threats could be the final push to get Congress to act.