While You Weren't Looking: 5 political stories that didn't even notice Melania Trump's stilettos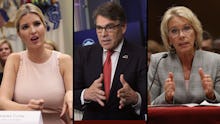 News this week has been dominated by the ongoing storm in Houston, the first lady's choice of footwear and President Donald Trump's reported plans to end the Deferred Action for Childhood Arrivals program (with a formal announcement apparently coming Tuesday).
But as that all unfolded, Washington policymakers continued to make major decisions that impact the lives of Americans. Here are a few of the political stories from this week you might have missed.
Pay equity rules die with Ivanka's approval
Despite the fact that first daughter and political avoider Ivanka Trump claimed she wanted to fight gender pay discrimination during her father's administration, an Obama-era regulation designed to do just that has been scrapped — with her help.
This week, the Office of Management and Budget killed a rule that forced employers with over 100 employees to collect data on pay disparities within their companies. Ivanka Trump reportedly supported the move, despite her stated commitment to ending gender-based pay disparities.
Opioid emergency goes unaddressed for third straight week, despite Trump claim
Three weeks after "declaring" the opioid crisis a national emergency, Trump has yet to take action to make that declaration official.
"The opioid crisis is an emergency, and I'm saying officially, right now, it is an emergency," Trump told reporters Aug. 10. "It's a national emergency. We're going to spend a lot of time, a lot of effort and a lot of money on the opioid crisis."
According to a report in the Hill, since that declaration, the Trump administration has taken no action since then to officially designate the opioid crisis a national emergency, a move that would free up federal funds to help address the matter.
Trump ends restrictions on giving certain military equipment to police
Also this week, the Justice Department reversed an Obama-era rule that prevented certain surplus military equipment from ending up in the hands of police.
In the wake of the 2014 police shooting of unarmed teenager Michael Brown and the protests that followed, former President Barack Obama put restrictions on a program allowing the U.S. military to give surplus equipment to local law enforcement.
The original program transferred more than $5.4 billion in equipment since its inception in the 1990s.
Energy Department moves to ramp up exports of natural gas
The Department of Energy proposed a new process to streamline exportation of small amounts of natural gas, allowing exports under 140 million cubic feet per day to avoid environmental review.
The U.S. has experienced a recent boom in natural gas production, thanks to new pipelines and increased use of hydraulic fracturing, or "fracking."
Environmentalists and other activists have warned against increased reliance on natural gas because of the dangers fracking can cause to local drinking water sources and the potential for increased earthquakes.
The new proposal is currently open for public comment through Oct. 16, according to the Hill.
Trump selects for-profit college executive to lead fraud department
The Trump administration has appointed Julian Schmoke Jr., former dean of DeVry University, to lead a Department of Education unit that "polices fraud in higher education," according to Politico.
In 2016, the for-profit college was forced to settle a major fraud lawsuit with the Education Department over its allegedly deceptive advertising.
Sens. Sherrod Brown (D-Ohio), Patty Murray (D-Wash.), Dick Durbin (D-Ill.) and Elizabeth Warren (D-Mass.) have written a letter to Education Secretary Betsy DeVos strongly opposing Schmoke's nomination.