As Texas begins its long road to recovery after Harvey, Hurricane Irma gains strength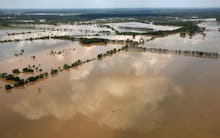 After several days of record flooding and destruction, Hurricane Harvey has finally moved on from the Gulf Coast, leaving affected Texans to begin a recovery effort that could take years to complete.
But while Harvey's reign of terror may have reached an end, there's a new potential threat brewing in the Caribbean: Hurricane Irma.
Irma has quickly become a potential threat in the Atlantic Ocean, where it strengthened to become a Category 3 hurricane Thursday within 30 hours of forming — the fastest a storm has become a major hurricane since Hurricane Keith in 2000.
The storm is currently a Category 2 hurricane, although the National Hurricane Center noted Saturday that the storm "is expected to remain a powerful hurricane into early next week" and strengthen again on Sunday.
The storm is known as a "Cape Verde" hurricane due to its origin near the Cape Verde (now Cabo Verde) islands off the coast of Africa. Cape Verde hurricanes are often extremely powerful, though meteorologist Eric Holthaus noted only about 15% ever make landfall in the United States.
Those who should currently be worried about Irma's landfall at the moment are those in the Lesser Antilles islands in the Caribbean, where the storm is expected to move near early next week.
In addition to strong rip currents, "Irma could also cause dangerous wind, storm surge, and rainfall impacts on some islands, although it is too soon to specify where and when those hazards could occur," National Hurricane Center meteorologist and communications officer Dennis Feltgen commented in an email to Mic. "Residents in the Lesser Antilles should monitor the progress of Irma through the weekend and listen to any advice given by local officials."
It's still too early to determine if Irma will make direct landfall in the United States, Feltgen noted, and any potential U.S. landfall is likely at least one week away.
Early models suggest that there could be up to a 50% chance that Irma could hit the East Coast late next weekend, Holthaus and meteorologist Michael Ventrice noted on Twitter Saturday — although it's also possible the storm will curve out to sea.
The potential threat of Hurricane Irma comes as Hurricane Harvey — now designated as a post-tropical cyclone — travels away from the Gulf Coast region, where it dumped trillions of gallons of water and caused widespread devastation and flooding. According to Reuters, more than one million people have been displaced by the storm, and an estimated 50 people have been killed by its effects.
Though the rain may have stopped, Texans affected by Harvey are still plagued by its devastation. In addition to the ongoing flooding and water damage, the storm has crippled cities' municipal systems — including running water — and sparked large chemical plant fires, the Washington Post reported Friday.