These are the biggest health risks Texans face in the aftermath of Hurricane Harvey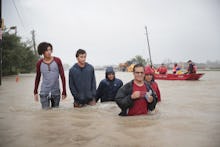 Hurricane Harvey unleashed record levels of flooding in Texas — and though the rainfall has stopped, the floodwaters now pose a major public health threat to the Texans forced to live in and around them.
The widespread flooding from Harvey is estimated to have displaced more than 1 million people from their homes, with certain areas of Texas getting hit by as much as 51.8 inches of water. Now, as Texans begin the multiyear road to recovery, public health officials are urging them to take precautions as they deal with the floodwaters filling their homes, businesses and roads.
"Our best advice is always to avoid floodwater as much as you can," Chris Van Deusen, a spokesman for the Texas Department of State Health Services, told NPR. "Of course, people have had to be in the water — they haven't had a choice."
From mosquitoes to mold, here are some of the worst public health problems faced by Hurricane Harvey's extensive flooding:
Bacteria and infectious diseases
One of the primary concerns when it comes to the hurricane floodwater is its potential to harbor bacteria that could infect residents with infectious diseases.
Floodwater can be contaminated by raw sewage, the Environmental Protection Agency noted, along with other hazardous substances. In addition to diseases like E. coli and Shigella, one major risk for Texans is contracting tetanus through bacteria in soil, dust or manure in the floodwater, which can enter the body through a cut or puncture wound and cause painful jaw and muscle stiffness and contractions.
State officials in Texas have already begun sending tetanus vaccines to the affected areas, NPR noted. Adults are recommended to receive a tetanus vaccine every 10 years, and those who are not up-to-date on their vaccine are urged to receive one in the wake of the hurricane.
In addition to the dangers posed by the sewage contaminants, another potential source of bacteria comes from ocean water — and the marine bacteria within it — being introduced to urban areas.
The primary risk from these contaminants is Vibrio, a type of marine bacteria described as "flesh-eating" that the New York Times noted can lead to amputations in dire cases. About two dozen people were affected by the bacteria in the wake of Hurricane Katrina and six were killed, according to the Washington Post.
With Hurricane Harvey's rampant flooding, there's little doubt these contaminants have already begun to pollute the area's floodwater.
"It's contaminated. There's millions of contaminants," Houston Health Department spokesman Porfirio Villarreal told the New York Times.
In a test of some of the area's floodwater by Houston's A&B Labs, as reported by CNN, water samples were shown to have amounts of E. coli and Coliform that the lab's manager noted were higher than any levels he had personally seen in publicly accessible water. Levels of E. coli reached up to 8,600 colony-forming units — with the EPA standard for recreational water being zero — and coliform levels were as high as 57,000 CFUs when the EPA limit is less than 100.
Because of this, residents should take care when coming into contact with floodwater, with any wounds or cuts being a particular concern.
Chemicals
Bacteria might not be the only thing contaminating Texas' floodwater. The state is filled with chemical plants and oil refineries, the Washington Post noted, which may have become affected by the floodwaters.
Harris County, Texas, is home to at least a dozen federal Superfund sites — areas that have been contaminated by hazardous waste — whose chemicals could potentially pollute the surrounding floodwaters.
Many of these Superfund sites have flooded, according to the Associated Press, and if the water around them has been contaminated as a result, Nancy Loeb, director of the Environmental Advocacy Center at Northwestern University's Pritzker School of Law, told the Washington Post, there's a risk of "the flooding picking up contaminants as it goes."
"If the water picks up contaminated sediment from sites, that may get deposited in areas where people frequent — residential properties, parks, ballfields — that were never contaminated before. We can't say for sure it will happen, but it's certainly a possibility," Loeb added.
Drinking water
In addition to the bacteria breeding in standing water, drinking water may also be affected, as well water can get contaminated, Dr. Phil Huang, medical director and health authority for Austin Public Health, told NPR.
"The main thing that people have to watch out for is gastrointestinal infections," Dr. Rick Watkins, an infectious disease doctor who studied waterborne diseases following Hurricane Katrina, told the Guardian. "Those are going to be because of the disruption of the sewage systems and, unfortunately, the drinking water is going to be contaminated."
Approximately 300 public water systems were in the path of Hurricane Harvey, although it is not yet clear how many may have been impacted, the Guardian noted. Additionally, hundreds of thousands of affected Texans use private wells that won't be inspected for contamination by the government, the New York Times noted, leaving residents to "fend for themselves."
Residents who may have contaminated drinking water are advised to use bottled water as a result or boil water before drinking it, Huang noted. The Environmental Protection Agency recommends bringing water to a "rolling boil" for one minute to kill all waterborne bacteria.
Mosquitoes
Houston was already "the mosquito capital of the United States," Dr. Peter Hotez, dean of the National School of Tropical Medicine at Baylor University, told the Hill — and in Harvey's wake, the number of mosquitoes is only expected to grow.
The standing floodwater is expected to provide a breeding ground for mosquitoes, as they need standing water to lay eggs. The "explosion" of mosquitoes from the flooding may bring with them a host of diseases, including West Nile virus, dengue and the Zika virus.
These mosquitoes won't be a short-term problem: According to the Washington Post, mosquito populations are expected to be washed away in the immediate future, but they are expected to soon re-emerge. A study done one year after Hurricane Katrina in 2006 found that cases of West Nile virus had more than doubled in communities affected by the storm, and Hotez predicted for Harvey, too, that "the impact on mosquito-borne illnesses could be around for another year."
Other insects and wildlife
It's not just mosquitoes that might be lurking in the floodwater. Harvey has already brought out floating colonies of venomous fire ants, who are known to sting humans and can cause an allergic reaction or even death. Those who find a fire ant on their skin should quickly rub their skin until they disperse, and a solution of diluted biodegradable dishwashing liquid may help to immobilize them, according to Paul Nester, a specialist with the Texas A&M AgriLife Extension Service.
Snakes, too, may be finding refuge in the Texas floodwater. "Storm activity definitely increases the potential for snakebite as the snakes get flooded out and seek higher ground," Bryan Fry, a venomous snake expert at the University of Queensland, told the Washington Post.
Mold
As Texans deal with massive flooding in their homes and businesses, the floodwater is likely to cause new outbreaks of mold. Following Hurricane Katrina, the Centers for Disease Control and Prevention found that 46% of homes in the New Orleans area that they inspected had visible mold growth, and mold is suspected to have contributed to the deaths of four Southern University at New Orleans professors who died within three months of each other.
"The amount of water they have had, you can't avoid the mold. It will happen in homes that will be underwater for a longer period of time," Maureen Lichtveld, professor and chair of the department of global environmental health sciences at Tulane University School of Public Health and Tropical Medicine, told the Hill about the Hurricane Harvey flooding.
While exposure to mold is typically not fatal, exposure can exacerbate other health issues, the Washington Post noted. According to the CDC, mold can worsen symptoms for those with asthma or cause serious lung infections in those with chronic lung illnesses or compromised immune systems. Among otherwise healthy people, exposure can also cause upper respiratory tract symptoms, coughing, wheezing, nasal stuffiness or irritation of the throat, eye or skin.