This week in Trump-Russia news: Mueller makes big moves as failed Trump Tower deal comes to light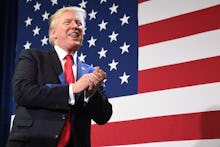 For months, special counsel Robert Mueller's investigation into President Donald Trump's ties to Russia moved steadily — if largely out of the public eye. But that probe has quietly intensified over recent weeks, and signs have emerged that it is entering a new, more aggressive phase.
That's never been more apparent than this week, when — amid reports that Trump was actively pursuing business interests in Moscow while he was running for president — a number of major moves by Mueller became public.
Here's what went down in a busy week of Trump-Russia news:
Mueller forms alliance with NY attorney general
More bad news, here, for Paul Manafort.
Special counsel Mueller has reportedly joined forces with New York Attorney General Eric Schneiderman as part of his investigation into the embattled former Trump campaign chairman, who has long been a major focus of the Russia probe.
In late July, the FBI seized documents from Manafort's home in an early morning raid in the clearest sign yet that the former chair — who has ties to Russia dating back more than a decade — is potentially in serious legal trouble.
While he has not been accused of any wrongdoing, Mueller and Schneiderman may have found evidence that points to potential money laundering and other financial crimes, and have been sharing evidence and discussing a possible case.
That spells trouble not just for Manafort, but for Trump, too. Though Trump has broad pardoning power — which he demonstrated recently when he handed a "get out of jail free" card to convicted former Arizona Sheriff Joe Arpaio — that power does not extend to state cases, like the one Schneiderman could bring. Down the road, that could make Manafort a key that unlocks other parts of the investigation for Mueller and his team.
Manafort's notes on a Don Jr. scandal
Speaking of Manafort, remember that "nothing burger" 2016 meeting Donald Trump Jr. took with a Russian lawyer he thought had Kremlin-collected dirt on his father's 2016 rival, Hillary Clinton?
Manafort — who, along with Trump's son-in-law Jared Kushner, was present at the now-infamous Trump Tower powwow — reportedly took notes on his phone during the meeting, in which he may have referenced political contributions, according to NBC News.
The notes — which have been obtained by Mueller, as well as investigators in the House and Senate — seem to undercut the administration's downplaying of the meeting for a couple reasons.
For one, according to NBC News, they raise questions about Russian donations to Trump's campaign or the Republican party — which would be illegal.
Further, the Washington Post noted, the Trump team has repeatedly sought to de-emphasize the significance of the meeting by saying Manafort was on his phone while there. That Manafort was apparently not merely browsing through his phone, but using it to take notes, could serve to undermine part of the administration's defense of the meeting as unimportant.
That June 2016 Trump Tower meeting has been part of Mueller's Russia probe since at least mid-July. It was reported Thursday that the special counsel had recently convened a grand jury to hear testimony from Rinat Akhmetshin, a Russian-American lobbyist who was present at the meeting.
It has also been of significant interest to House and Senate investigators. This week, it was reported that Trump Jr. has agreed to testify before the Senate Judiciary Committee within the next several weeks, though the date of the closed-door interview is not yet clear.
Will Trump's elusive tax returns come into play?
Mueller hasn't only joined up with Schneiderman. It was also reported on Thursday that the special counsel is working with the Criminal Investigations unit of the IRS — who, by the way, has access to those tax returns Trump has so far refused to make public.
Mueller has been investigating Trump and his associates for possible financial crimes as part of his probe into Russia's interference in the 2016 election.
While Trump has long condemned the investigations into his campaign as a "witch hunt," he has seemed particularly cagey about his finances, suggesting in an explosive interview with the New York Times in July that he would consider it crossing a red line if Mueller were look into them.
"I think that's a violation," Trump said. "This is about Russia."
Trump had Moscow business interests during campaign
Trump, who, by his account, has had "NOTHING TO DO WITH RUSSIA — NO DEALS, NO LOANS, NO NOTHING," seems to have wanted something to do with the country while he was seeking the presidency.
According to the Washington Post, Trump's company was seeking to develop a Trump Tower in Moscow in 2015 and 2016 — and, the New York Times reported, a criminal business partner of Trump's saw the potential deal as a way to help him get elected president.
"Our boy can become president of the USA and we can engineer it," Felix Sater wrote in an email to Trump lawyer Michael Cohen, according to the Times. "I will get all of Putin's team to buy in on this, I will manage this process."
Sater, a Soviet Union-born real estate developer who has been an associate of Trump, claimed in emails to Cohen that he could get Russian President Vladimir Putin to back the Moscow project and that this would in some way get Trump into the White House.
"I will get Putin on this program and we will get Donald elected," Sater wrote, according to the Times.
In return, Sater — a former FBI informant who was once convicted of racketeering in a Russian mafia-linked fraud scheme — indicated that he hoped to be appointed Trump's ambassador to the Bahamas. "That my friend is the home run I want out of this," he said in one of the emails.
While the project never came to be, Trump's company did sign a letter of intent. It's unclear how much — if at all — Trump was involved in these discussions, but the emails provide perhaps one of the strongest suggestions yet that there is some fire behind all of the smoke that's been billowing out of the investigations into his links to Russia.