DOJ says there is no proof to back up the president's claims that Obama had Trump's "wires tapped"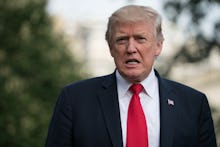 The U.S. Department of Justice and the FBI have been unable to find any proof to support President Donald Trump's accusation earlier this year that former President Barack Obama ordered wiretapping at Trump Tower in the run-up to the 2016 election.
In response to a Freedom of Information Act request submitted by the watchdog group American Oversight, the DOJ filed a Motion for Summary Judgment Friday night that they have found no evidence to corroborate the accusations Trump made in a series of incendiary tweets.
"Terrible!" Trump wrote in the first of four tweets on March 4. "Just found out that Obama had my 'wires tapped' in Trump Tower just before the victory. Nothing found. This is McCarthyism!" He went on to repeat the accusations, and call Obama a "bad (or sick) guy" in subsequent tweets.
According to the DOJ filing, they have turned up nothing that suggests the alleged wiretapping ever took place.
"Both FBI and NSD confirm that they have no records related to wiretaps as described by the March 4, 2017 tweets," the court document reads.
Shortly after Trump's tweet storm, the House Intelligence Committee called on the White House — which was reportedly blindsided by Trump's tweets — to provide evidence supporting his allegations. Trump's then-press secretary Sean Spicer later walked back the claims, arguing that Trump had "used the word wiretaps in quotes to mean, broadly, surveillance and other activities."
While former FBI Director James Comey on March 20 told the House Intelligence Committee that there was "no information that supports those tweets," the statement in the filing is the first time the DOJ has publicly acknowledged that Trump's accusations were without merit.
According to Newsweek, which first reported on the DOJ's filing, American Oversight's FOIA request had asked for any "warrant applications or records requesting a court order to intercept communications related to candidate Donald Trump, Trump Tower, entities housed in Trump Tower or any person affiliated with Mr. Trump's campaign; court orders approving or rejecting those requests; records of those wiretaps and; communications between the FBI or DOJ and Congress relating to these issues."
According to American Oversight executive director Austin Evers, the filing confirms "in writing" that Trump's accusation amounted to a lie. "As the president and his legal team continue their smear campaign against Mr. Comey, Special Counsel [Robert] Mueller and others investigating him, this filing confirms that even Trump's own Department of Justice does not believe he has credibility on a key element of the Russia investigation," he told Newsweek.