Trump once again lashes out at North Korea following nation's latest nuclear test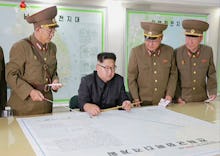 Hours after North Korea conducted its latest nuclear test Sunday, President Donald Trump took to Twitter to lash out against the isolated nation for its latest display of aggression.
The nuclear test, which North Korea declared a "success," reportedly used a hydrogen bomb that can be mounted on an intercontinental ballistic missile. The New York Times reported the blast was "five to six times" as powerful as the country's last nuclear test in September 2016, producing an earthquake that could be felt in South Korea with a magnitude of 6.3, as estimated by the U.S. Geological Survey.
Adding to a wave of condemnations from international leaders, Trump denounced the test on Twitter Sunday morning, calling North Korea a "rogue nation" posing a threat to the U.S. and attacking China's ineffective response.
"North Korea has conducted a major nuclear test. Their words and actions continue to be very hostile and dangerous to the United States," Trump tweeted, adding "North Korea is a rogue nation which has become a great threat and embarrassment to China, which is trying to help but with little success."
Trump also went after U.S. ally South Korea in his Sunday morning tweets, claiming that the country "is finding, as I have told them, that their talk of appeasement with North Korea will not work. They only understand one thing!"
South Korea appeared to step up its response in the wake of Sunday's test, however, raising the country's military alert level and calling for "the toughest retaliation measures."
"President Moon Jae-In ordered the toughest retaliation measures against North Korea's ICBM level missile and nuclear provocations, mobilizing all diplomatic means to totally isolate North Korea," South Korea's national security office director Chung Eui-Yong said in a televised press briefing, as quoted by CNBC. "He will never tolerate North Korea's advancement in its nuclear capabilities and will deploy U.S. assets."
China's foreign ministry denounced the nuclear test Sunday, saying North Korea had conducted it "with no regard to the general objections of the international community."
"The Chinese government resolutely opposes and strongly condemns this," the foreign ministry said in a statement, as quoted by the Washington Post. "China will work together with the international community to comprehensively and completely implement the relevant resolutions of the Security Council of the U.N., unswervingly push forward the denuclearization of the peninsula, and unswervingly maintain the peace and stability of the peninsula."