Arizona Sen. Jeff Flake denounces Trump's potential decision to end DACA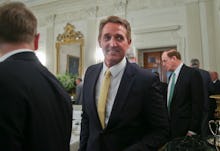 As the country waits for President Donald Trump to decide the fate of the Deferred Action for Childhood Arrivals program, Arizona Sen. Jeff Flake has become the latest Republican to speak out against ending the Obama-era program.
In an appearance on CNN's State of the Union Sunday, Sen. Flake voiced his support for DACA, saying the president's campaign promise to end the program is "one he ought to ignore." The comments expanded on a tweet the senator sent Friday calling on Congress to preserve the program, which shields those who immigrated to the U.S. without documentation as children from deportation and allows them to legally work in the U.S.
"There are 800,000 DACA kids. Kids who were brought across the border ... they should not be punished for the sins of their parents," Flake said Sunday.
"To remove them from the country, to split up families like this, is just not the way we ought to go," Flake added, citing the high percentage of DACA recipients who are in the American workforce.
Flake's comments Sunday echoed a growing number of conservatives who have shown their support for the program, including Utah Sen. Orrin Hatch and Florida Gov. Rick Scott.
"I actually don't think he should do that," Speaker of the House Paul Ryan said about ending DACA in a radio interview, as quoted by the New York Times. "I believe that this is something Congress has to fix."
Despite the mounting support for DACA — along with the fact that many recipients are currently affected by the ongoing crisis from Hurricane Harvey — Trump is widely expected to end the program on Tuesday, even as he told reporters Friday that "the Dreamers [DACA recipients] are terrific."
Though the president has put off his decision in recent days, the Tuesday deadline has reportedly been forced by a group of Republican state attorneys general, who have threatened to take legal action against the program if the president has not acted to end it by that date.
Flake's opposition to Trump's potential DACA decision continues the publicly combative relationship between the two politicians. The senator has been an outspoken critic of Trump — though he has often voted in line with the president's positions — while the president has publicly supported Flake's primary opponent and described him as "toxic" "Flake Jeff Flake" on Twitter.
"I think the voters here expect me to have my own franchise, to represent them — not to be a rubber stamp for the president," Flake said Sunday. "I will support the president when I believe he's right. ... I'll oppose those that I think he's wrong on."