Former Bush Sec. Carlos Gutierrez and Rick Santorum clash over DACA as its fate remains uncertain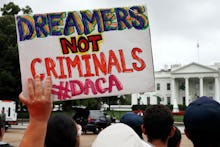 President Donald Trump's potential decision to end the Deferred Action for Childhood Arrivals program is sparking divides within his own party — as shown by a CNN segment Sunday where two prominent conservatives went head-to-head.
During a roundtable discussion on CNN's State of the Union Sunday, former Sen. Rick Santorum and Carlos Gutierrez, the former secretary of Commerce under President George W. Bush, clashed over the best course of action for DACA, which Trump is widely expected to end on Tuesday. The program, which began under former President Barack Obama, ensures that immigrants who were brought to the U.S. without documentation as children are protected from deportation and allowed to work.
Gutierrez advocated for keeping the law intact or leaving it up to Congress to officially legalize, telling the panelists and host Dana Bash that Trump's decision to end the program and deport DACA recipients "would be one of the most notorious immigration decisions in our history and I think it would be a permanent stain on the U.S."
"Real leadership for the president would be to go up against his base and tell them, 'My wisdom, my sense of American values tells me that this is wrong.' That would be leadership," Gutierrez added.
Santorum, meanwhile, said that Trump "acting unilaterally on [DACA] is wrong" but said the president should "enforce the law" about illegal immigration and work out a deal in which DACA could be preserved in exchange for "better border enforcement" — namely the border wall that's become a cornerstone of the president's platform.
The two Republicans were joined by Democratic panelists California Rep. Barbara Lee and Center for American Progress CEO Neera Tanden, who argued for the moral values of keeping the DACA recipients in the country and keeping families together.
Both Santorum and Gutierrez agreed on the "compassion" of keeping DACA recipients in the country, though while Gutierrez argued that the recipients are "as American as anyone else" and should remain, Santorum said he was opposed to the program because of its "unintended consequences."
"When we give amnesty to a group of people, what do you do? You encourage more people to come over," Santorum claimed.
The two Republicans also differed sharply over the economic benefits of immigration, with Santorum calling for a review of immigration's benefits and pointing to the high percentage of DACA recipients in the American workforce as a source of criticism.
"About several hundred thousand of these Dreamers are working in the workplace right now, and you can make the argument they're taking jobs away from other folks who would be working," Santorum said.
Gutierrez, on the other hand, argued for the economic benefits of immigration.
"An economy grows with the number of workers in the economy, and the productivity of that economy. Our native-born workforce is not growing fast enough to grow the economy. Without immigration, we cannot grow," Gutierrez said.
"The only way to discourage illegal immigration is by changing our laws," Gutierrez later added.
"Or just open our borders?" Santorum retorted.
"No no no," Gutierrez exclaimed, adding, as Santorum asked him to state the exact number of immigrants who should be admitted, "You don't understand how the economy works."
The divide between the two Republicans is indicative of the emerging divide amongst conservatives regarding DACA's fate. Though much of Trump's base remains opposed to the program — and several Republican state attorneys general are threatening legal action if Trump doesn't end it — several prominent conservatives have come out in favor of the program or of putting reform in Congress' hands. Speaker of the House Paul Ryan, Sen. Orrin Hatch and Florida Gov. Rick Scott have all spoken in favor of the program, along with Arizona Sen. Jeff Flake, who addressed the program in a separate State of the Union appearance Sunday.
"There are 800,000 DACA kids. Kids who were brought across the border ... they should not be punished for the sins of their parents," Flake said Sunday. "To remove them from the country, to split up families like this, is just not the way we ought to go."