Secretary Mattis threatens "massive military response" against North Korea following nuclear test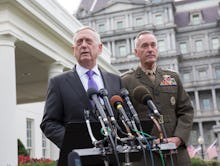 Following Pyongyang's latest and most powerful nuclear test yet, Defense Secretary Jim Mattis threatened a "massive military response" against North Korea if its leader, Kim Jong-un, continues provocations against the United States and its allies in the region.
"Any threat to the United States or its territories, including Guam, or our allies will be met with a massive military response both effective and overwhelming," Mattis said in a Sunday press conference at the White House.
If Kim continues his show of force, Mattis warned that the U.S. and its United Nations allies have between them a military arsenal capable of obliterating his nation.
"Kim Jong-un should take heed of the United Nations' Security Council's unified voice: All members unanimously agreed on the threat North Korea poses," Mattis said. "Because we are not looking to the total annihilation of a country, namely North Korea. But as I said, we have many options to do so."
Mattis' latest threat against Pyongyang comes on the same day that North Korea claimed to have tested a hydrogen bomb capable of being attached to an intercontinental ballistic missile. According to the United States Geological Survey, the blast caused by the underground nuclear test created a tremor with a magnitude of 6.3.
According to the New York Times, Sunday's nuclear test was "'five to six times as powerful" as North Korea's test this time last year.
In a Sunday morning tweetstorm, President Donald Trump suggested that force was the only solution to the problem of North Korean denuclearization.
Later, Trump went on to tweet that the United States may stop trading with any nation "doing business" with North Korea.
According to MIT's Observatory of Economic Complexity, the list of nations that might be affected should Trump make good on his threat includes India, Russia, Thailand, Burkina Faso, Pakistan, the Philippines and China.