Asos' new makeup campaign is here to show you what inclusive beauty looks like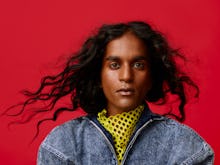 Between Rihanna's superinclusive Fenty Beauty campaign and this Asos campaign, true diversity in the beauty world is becoming all the more realistic a hope.
To celebrate the launch of Asos' first-ever color makeup collection, which is a part of the beauty department's relaunch, called Face and Body, the online retailer has given us the most inclusive beauty campaign we've ever seen.
There's plenty of women of color.
There's plus-size women.
There's men...
...as well as plus-size men.
And there's people like artist and model Richie Shazam, who is queer and subverts the gender binary in his own art.
There's never been a beauty launch quite like it, both visually stunning and incredibly progressive.
It makes sense coming from Asos too, with its forward-thinking branding, like its curve women's department, its men's plus department and its push to not digitally augment some of its models.
What's also great about it is that the makeup itself, which will be available to purchase on Sept. 20, is highly affordable. Lipsticks top out at $11.50 and the most expensive item, an eyeshadow palette, is $19.
"At Asos, we want to empower 20-somethings to confidently be themselves, however they choose to do so," the company wrote in a press release. "We believe your face and body are a canvas, an adventure in individual self-expression, an opportunity to experiment and play."
That's exactly what these campaign images reflect.
Mic has reached out to Asos for comment, and will update when we hear back.