A quick history lesson shows why pinning DACA's fate on congressional action is a massive risk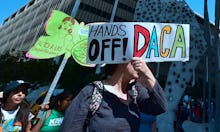 Attorney General Jeff Sessions announced on Tuesday that the Trump administration will end a program that protects undocumented immigrants brought to the United States as children from being deported — unless Congress passes legislation that codifies the program into law.
"Congress should carefully and thoughtfully pursue the types of reforms that are right for the American people," Sessions said, adding that DACA will be phased out but providing no timeline for when that phaseout would occur.
The Deferred Action for Childhood Arrivals program was created in 2012 by President Barack Obama, and allows undocumented immigrants who arrived in the U.S. before the age of 16 and who do not have a criminal record to work, attend school or join the U.S. Military. The program currently protects around 800,000 people, known colloquially as Dreamers.
A group of Republican attorneys general say Obama did not have the authority to create DACA, and announced plans to sue the Trump administration if it kept the program in place. Sessions said Tuesday the Department of Justice views DACA as unlawful, saying it was an executive overreach that disadvantages American workers.
DACA has "denied jobs to hundreds of thousands of Americans by allowing those same illegal aliens to take those jobs," Sessions said of DACA recipients, providing no evidence for the claim.
In a Tuesday morning tweet, Trump suggested he would sign a bill that makes DACA law, writing "Congress, get ready to do your job — DACA!"
But history shows that entrusting Congress with a legislative solution on immigration reform is an extremely risky endeavor.
That's because immigration is one of the thorniest topics on Capitol Hill.
Trump got elected in part thanks to his hard-line stance on immigration, with his base cheering his plans to deport undocumented immigrants and build a wall along the U.S.-Mexico border. An angry crop of base voters could scare Republican lawmakers from supporting immigration reform.
Even more, lawmakers have been kicking around the Dream Act — the legislative version of DACA — since 2001. In 2010, it looked like the Dream Act was close to becoming law, after the Democratic-controlled House passed the bill. However it went on to die in the Senate, after Republicans and a handful of Democrats in conservative states voted against it.
Sessions, who was in the Senate at the time, called the legislation "a reward for illegal activity," according to Politico.
It's possible that a six-month deadline to protect the so-called Dreamers could finally spur Congress to act. The Dream Act has some prominent Republican supporters, including House Speaker Paul Ryan, who controls what legislation makes it to the House floor for votes.
"It is my hope that the House and Senate, with the president's leadership, will be able to find consensus on a permanent legislative solution that includes ensuring that those who have done nothing wrong can still contribute as a valued part of this great country," Ryan said in a statement Tuesday of DACA recipients.
Yet Congress has so many controversial legislative items on its agenda that could complicate the Dream Act's path. The month of September will be dominated by fights over the debt ceiling, government funding and Hurricane Harvey disaster relief, fights that could easily spill into the fall. What's more, Congress is expected to pass a short-term government funding bill that would run through December, setting up yet another shutdown showdown before the year's end. Even Harvey relief could get contentious.
And even if Congress can get all of those must-pass items done before the end of the year, the Trump administration has put tax reform on the top of its list of legislative priorities — an incredibly difficult legislative task that could spill over into 2018 and take precedence over immigration reform.
DACA recipients and their advocates seem to understand this and are planning protests and lobbying efforts to try and protect those covered by DACA from deportation. A group of DACA recipients and advocates plan to start a hunger strike on Tuesday in Washington, D.C., in an attempt to kickstart efforts to protect the program.
Still, congressional action is far from certain. And thus, so is the fate of nearly 1 million DACA recipients.