Here are the designers of color you should know at New York Fashion Week Spring 2018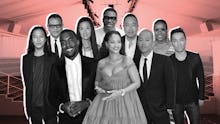 At this point, New York Fashion Week is lighting the way in terms of diversity at fashion weeks. Season after season, New York casts more models of color in its shows than Milan, Paris and London. Last season, in February, every single NYFW show featured at least one model of color. But that's just on the model side.
Among the designers that show their clothing at NYFW, there's work to be done to be truly racially diverse. Last season, there were 60 designers of color by our count, and that was up 46 the season before. This year, it's around 60 again, with people like Kanye West still yet to be added to the official schedule (though he's supposed to be).
But anyway, we thought it's best to highlight some of the most notable designers of color showing in the next few days, from Alexander Wang to Tracy Reese to the honorable Rihanna, because if fashion wants to get greater, these are some of the people definitely worth investing in.
3.1 Phillip Lim 
Adeam
Alejandra Alonso
Alexander Wang
Always packed to the gills with celebrities and supermodels, Alexander Wang's show, which is being held on Saturday at 9:30 p.m. this year, is usually one of the most popular of the week.
With his affinity for black, athleisure and models like Bella Hadid, he ticks all the boxes when it comes to getting fashion's attention.
Angel Sanchez
Anna Sui
Barragán
Bibhu Mohapatra
Calvin Luo
Chocheng
Claudia Li
Concept Korea
Creatures of Comfort 
Cushnie et Ochs
Since Cushnie et Ochs, which is led by designers Carly Cushnie and Michelle Ochs, officially has the Michelle Obama stamp of approval, with the former FLOTUS wearing one of their dresses to the ESPYs this year, of course they're ones to watch at their show on Friday at 3 p.m.
Their designs are usually sleek, fun and modern too.
Dan Liu
Derek Lam
Eugenia Kim
Fenty Puma by Rihanna
Obviously we should always be watching Rihanna, but with a beauty launch on Friday and this show on Sunday at 9 p.m., we're keeping a super close eye on Ms. Fenty.
Her collections for Puma have been incredibly impressive thus far, and pushing the barriers of gendered dressing.
Ghazaleh Khalifeh
Greta Constantine
Helmut Lang by Shayne Oliver
With Shayne Oliver of the wild brand Hood by Air at the helm of Helmut Lang's latest NYFW collection, this show is set to be unlike anything you've ever seen.
Hood by Air's been known in the industry for pushing the boundaries of fashion, sending models out on the runway wearing two-sided shoes, for instance, and covered in milky liquid that some found, well, quite gross.
The show itself, which is happening on Monday at 9 p.m., is titled "Helmut Lang seen by Shayne Oliver," so we'd expect the unexpected.
Jason Wu
Josie Natori 
Kim Shui
Kimora Lee Simmons
LaQuan Smith
Mateo
Monse
Naeem Khan
Back in February, Naeem Khan was one of the many designers who chose to make their NYFW fashion show about more than just fashion. For the finale, he sent a lone model down the runway, draped in what looked like a gorgeous gold wedding gown, as an audio recording of Maya Angelou's poem "Human Family" played. 
The poem itself is about celebrating differences, and after Trump's immigration ban, which Khan has spoken out against himself, it was a moving moment for his attendees.
With Khan continuing to be politically outspoken himself, we'd guess that this season's show, which will be held on Tuesday at 3 p.m., will be about more than just fashion too.
Namilia
Nancy Tran
Noon by Noor 
Opening Ceremony
Oscar de la Renta
PH5
Prabal Gurung
Add Prabal Gurung's name to the list of designers who can't help but get political in this day and age too. During his show in February, he sent models out in slogan T-shirts that read everything from "The future is female" to "I am an immigrant" and "We will not be silenced."
So it'd probably be smart to keep an eye on his show on Sunday at 7 p.m.
Premal Badiani
Public School
R13
Romeo Hunte
Sachin & Babi
Sandy Liang
Self-Portrait
Snow Xue Gao
Son Jung Wan
Tadashi Shoji 
Talisha White
Taoray Wang
Tiffany Huang
Tracy Reese
Tracy Reese, who's a favorite of Michelle Obama's, is already set to make a political statement at NYFW, signing on to be one of the designers sporting an ACLU ribbon during the week's festivities.
In February, she wore the Planned Parenthood pin for NYFW, along with a political statement T-shirt. As for her designs, which you'll see after her show on Sunday at 2 p.m., they're incredibly eclectic and beautiful, with diverse models as well.
Vicky Zhang
Visvim
Vivienne Hu
Vivienne Tam
Yuna Yang
Zang Toi
Zero + Maria Cornejo