Jeff Sessions claimed DACA contributed to surge of unaccompanied minors at border. He's wrong.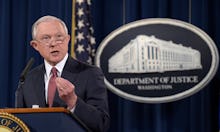 Attorney General Jeff Sessions on Tuesday announced that the Trump administration will kill the Deferred Action for Childhood Arrivals program, calling it an "unconstitutional" overreach on the part of former President Barack Obama that led to a surge in dangerous illegal immigration.
"The effect of this unilateral executive amnesty among other things contributed to a surge of minors at the southern border that yielded terrible humanitarian consequences," Sessions said in a news conference.
His claim — the Obama's 2012 executive order led to a spike in unaccompanied minors at the United States-Mexico border — echoes criticisms made by Republicans dating back at least three years.
"We are essentially incentivizing the flow of this population by not returning the unaccompanied juveniles to their countries of origins quickly," Rep. Tom Cole (R-Okla.) said in 2014.
So did DACA really cause the "surge of minors at the southern border," as Sessions said Tuesday?
Not exactly.
Bush-era law, humanitarian conditions drove 2014 crisis
In 2014, the U.S. saw a dramatic surge in undocumented immigration. Tens of thousands of those arriving at the border were unaccompanied minors, according to Customs and Border Protection statistics.
According to a 2016 study published in the journal International Migration, DACA "did not significantly impact" the surge in unaccompanied minors. Instead, the report found, violence in the immigrants' countries of origin and a George W. Bush-era human trafficking law were the primary drivers of the 2014 border crisis.
The Williams Wilberforce Trafficking Victims Protection Reauthorization Act, signed by Bush in the waning days of his presidency in 2008 and renewed in 2013 as part of the Violence Against Women Reauthorization Act, protects children coming into the U.S. alone from being immediately sent back to their country of origin. The law — which the Bush administration described as having been "very effective around the world in trying to stop trafficking in persons" — was a major contributor to the surge, the New York Times reported in 2014.
"It is classic unintended consequences," Marc R. Rosenblum, deputy director of the U.S. Immigration Policy Program at the Migration Policy Institute, told the Times. "This was certainly not what was envisioned."
The other key driver of the crisis was "increasingly grave conditions in Central America," according to a 2014 report by the Migration Policy Institute.
"Ultimately, only improved national and regional economic and security conditions in the children's countries of origin can stem the flow," the report read.
Sessions' announcement Tuesday fulfills a campaign promise by Trump to end the program as part of his immigration crackdown, and puts the future of the 800,000 people who benefit from DACA into the hands of Congress, which has long struggled to move on immigration legislation.