Meet Anita Green, the first out transgender pageant contestant to compete in Miss Montana USA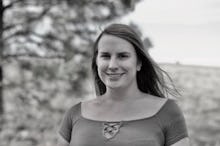 On Saturday, Anita Green will make history.
When she competes in the Miss Montana USA pageant, which is a qualifier for Miss USA this weekend, Green will be the first-ever out transgender contestant to compete for the crown in Montana.
There has only been just one woman like her before: Kylan Arianna Wenzel, who made history by being the first trans woman to compete on a state level for Miss USA in California in 2013. And that came only after Donald Trump, who used to own Miss Universe Organization, which oversees Miss USA, changed the rule that had previously made trans contestants ineligible.
That's pretty ironic for Green, who said in an interview with Mic that Trump's presence in politics — and his presidency thus far — was the deciding factor for her entering the competition at all.
"I thought about it for a couple of years but I just wasn't sure I was ready for it," Green said. "But I can definitely tell you that when Trump was elected into office, I knew that I needed to step up and do this. I was so nervous about this but I knew that I needed to compete. I wanted to be a positive role model in the community and instill a sense of hope within the trans community and give them some positive news."
It's a step out of Green's comfort zone, to say the least. In years previous, she's been mostly involved in politics. In 2016, she made state history by being elected Montana's first out transgender national delegate to a nominating convention. She's also an executive board member for the Missoula County Democrats.
So how is she really feeling at this moment, days away from her first-ever beauty pageant?
"I was actually just watching Miss Congeniality and thought, 'That's me!'" Green said. "I'm very much Sandra Bullock's character in that movie. I'm somebody who doesn't wear makeup on an everyday basis. I rarely do my hair. But this is giving me the opportunity to be myself in a much different way. I get to be really glamorous and I'm really excited to show that off."
Thus far, the most surprising thing she's encountered in this competition is just how accepting her fellow contestants, many of whom she met at a workshop conference last week, have been.
"In getting prepared for this pageant, I wasn't really surprised by anything other than how accepting the girls have been so far," Green said. "Actually, I went to a rehearsal last week and everyone seemed to be incredibly accepting of me. I didn't think people would be because this is Montana and we are a conservative state, but I think that's starting to change."
But still, Green is the trailblazer, and with that comes not only enormous responsibility and fame, but also harassment, which she's fully expecting to get.
"We need people to be strong. We need people who do have the thick skin, who can take that backlash to stand up and speak on behalf of us," Green said. "We need positive role models and hopeful stories, and I want to be someone who is part of that hopeful story. No matter what happens, or what people say, it's not going to stop me from competing."
One of the reasons she's competing after all is to bring about strength within the transgender community, and to educate as many people as she can about what it means to be trans.
"I really want my thoughts be heard," Green said. "I have a progressive message that I want to get across to people and bring forth some change. I hope that transgender women competing in pageants ultimately shows people that we are women and that we really should be respected as people."
Green is undoubtedly proud to be the first out trans woman to compete in Miss Montana USA, but what she really wants to be is the first out trans woman who wins it all.