Congressional Republicans call for legislative solution after Trump ends DACA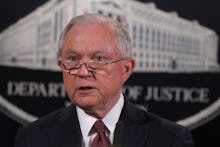 Some of the country's most powerful Republicans in both the House and Senate are calling on their colleagues to pass immigration reform, after President Donald Trump announced on Tuesday that he's ending a program that shields undocumented immigrants who were brought to the U.S. as minors from deportation.
A number of Republican lawmakers, including House Speaker Paul Ryan and Sen. Orrin Hatch (R-Utah), the second-highest ranking member of the Senate, have announced they're backing efforts to craft a legislative solution that protects beneficiaries of the Deferred Action for Childhood Arrivals program, better known as DACA.
While most GOP lawmakers have said former President Barack Obama did not have the authority to create the DACA program, they agreed that the undocumented immigrants covered by DACA were brought to the U.S. illegally "through no fault of their own" and that the program has real economic benefits.
"I called the president last week to urge him not to rescind DACA because I believe it puts Dreamers, who were brought here as children through no fault of their own, in an extremely difficult position," Hatch said in a statement. "Dreamers" is the colloquial term for undocumented immigrants who were brought to the U.S. as minors, and would hypothetically be covered under the DREAM Act, which Hatch introduced back in 2001. Like DACA, the DREAM Act would allow these undocumented immigrants the ability to work or attend school in the U.S., assuming they did not have a criminal record.
In a series of tweets, Sen. Thom Tillis (R-N.C.) said he's working on introducing legislation in the Senate to address DACA.
Meanwhile, a handful of other Republican Senators — including Pat Toomey of Pennsylvania, Lindsey Graham of South Carolina, John McCain of Arizona and Jeff Flake of Arizona — said they also support legislative efforts to protect DACA recipients.
Senate Majority Leader Mitch McConnell, who controls the legislative agenda, issued a vague statement on whether he'd put legislation protecting DACA recipients on the Senate floor.
"This Congress will continue working on securing our border and ensuring a lawful system of immigration that works," McConnell said in a statement.
But in the House, Ryan said he supports a legislative fix to protect DACA recipients.
"It is my hope that the House and Senate, with the president's leadership, will be able to find consensus on a permanent legislative solution that includes ensuring that those who have done nothing wrong can still contribute as a valued part of this great country," Ryan said in a statement Tuesday.
A handful of other moderate Republican House members, including Reps. Will Hurd of Texas, Mike Coffman of Colorado and Frank LoBiondo of New Jersey, said they are also supportive of a legislative fix.
Still, even if Congress can agree on legislation to protect DACA recipients, it's unlikely Trump would sign a bill that only addresses DACA.
In a statement on Tuesday, Trump signaled that any immigration reform must also address legal immigration.
"We must base future immigration on merit — we want those coming into the country to be able to support themselves financially, to contribute to our economy and to love our country and the values it stands for," Trump said in the statement. "Under a merit-based system, citizens will enjoy higher employment, rising wages and a stronger middle class."
White House Press Secretary Sarah Huckabee Sanders confirmed that Trump wants to sign comprehensive immigration reform that includes wall funding and changes to the legal immigration system, not a "one-piece fix."
Giving Congress just six months to pass comprehensive immigration reform — especially as Congress grapples with other must-pass deadlines — seriously imperils DACA recipients.
Sept. 5, 2017, 2:28 p.m.: This story has been updated.