Inside what it really takes to produce a show at New York Fashion Week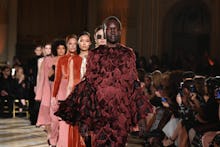 The first time you saw a fashion show, it was probably in a movie or TV show. Like when Carrie walks in her first fashion show in Sex and the City, is given not pants but sparkly underwear and then promptly falls on her face. Or the multiple fashion shows Blair Waldorf and Serena van der Woodsen sat front row on Gossip Girl. Or all those scenes in Zoolander, that had Ben Stiller's character bumping down a catwalk.
They are elite and glamorous and striking and highly pressurized and also, wouldn't you know it, an almost insurmountable amount of work for the people behind the scenes.
For the more than 70 shows in New York this coming week for NYFW, and every one subsequently this fashion month, each and every one is a gigantic production that involves hundreds of people and preparation that spans multiple months. They can cost millions and millions of dollars, according to Laurie DeJong, the CEO of the production company LDJ Productions, with the average being a few $100,000.
It's a bit of a circus, really, so to get a better handle on what planning a fashion show really means, we decided to talk to DeJong, who's helped produce shows for more than 10 years now, about what planning a show is really like.
Just this season, she'll be coordinating for Christian Siriano, Addition Elle, the Project Runway finale show and a few more, so count her as one of the busiest women alive right now.
How far in advance do you realistically start planning?
Laurie DeJong: For September, it's Spring, late Spring. For February, we like to start right after September is over. The minute that we can get a designer to get a venue, then we can lock in venues. And the challenge is that the CFDA runs the calendar and we have to work with them for a time slot.
How many people, on average, work on a fashion show?
LD: Hundreds. From start to finish. There's the actual technical production people from lighting designers to audio specialists to video engineers. People that just work on the A-track, which is the heating and air conditioning, and the power people.
Then there's IT and the labor pool, probably 60 of them when we have a really big venue assistant program, and there's like 80 of them. An army of people.
Every show comes with a producer team too, so that's even more.
It's one giant collaborative process. We're experts in moving people. It's 24/7, so your lifeline is each other and it's important that the people that we chose around us are people we can rely on. The kind of scrutiny that we're under, it has to be seamless. It's the best of the best in New York working with the best, who want to do the best. It's really rewarding to work in this, because we're all overachievers.
What really happens in the hours leading up to the show?
LD: So we had a casting yesterday and we had 120 models show up — cast 24 of them. So the weekend before the show, we'll be getting the collection in. And it's back and forth between the agents. There's enormous competition among the models, and these are the top models.
Over the next week, this collection is 60 pieces, and we'll be fitting every piece on one of the 24 models, and sometimes it's 10 fittings a day. A full week of fittings, and every designer can have like 50 fittings.
This week will be a frenzy of fitting and planning out how these models are going to walk down that runway. Model No. 1 can't be model No. 10 because she needs time to dress. The rotation itself can take hours.
The experience of the show itself is minutes but it really lasts six months. The products and the press and the social media that comes out, it's six months of content.
We have to constantly prepare for that surprise, because I've been doing this for a while, and we anticipate that something's going to go wrong.
What are some of the biggest challenges you run into in taking a designer's vision and bringing it to life? Have you had any harrowing moments where you really didn't think it was going to work out?
LD: Usually the problem is that the designers want champagne, but you have a beer budget. I definitely have some horror stories and sometimes those happen on the runway. You're hoping for a celebrity, or a PR company runs out of front row seats and you have people scrambling. But the allure of Fashion Week is that they expect that pseudo-drama.
These shows are so important and the investments are so big, and really we're setting that atmosphere where our job is to make sure this show happens in this amount of time and there's no other option.
Where do the clothes go after a fashion show?
LD: A majority of the time, the clothes will go back to the showroom. So sometimes they'll go on the road, or just to the designer's place in New York.
How has the fashion show as an event evolved since you entered the industry?
LD: It's all about technology. It's been epic. And we've been having a ball. There's so many new cool things coming out, and we're having a really interesting year of watching what's happening and what can happen.
How do you see fashion shows evolving in the next decade?
LD: Even with a [virtual] avatar, which is something you'd never think of in a business setting, it's a game changer. An avatar can be attached to anything. So, what if you're sitting in the audience, what if you had an app and you took a picture of that garment and the info of that popped onto your screen? It's going to be the future.
There's going to be a hybrid of different scenarios — some designers that opt out of the show and want to do something with virtual reality, and then there's going to be another designer who does their whole show on Instagram. It's going to be a hybrid of designers who want in, and want out.