Michael Kors doubles down on his watch of the future, with 2 new smartwatch designs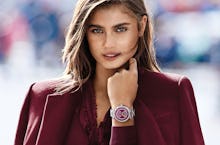 This time last year, designer Michael Kors did his best to convince you that the Apple Watch just wasn't glamorous — or fashionable — enough for you.
With the release of the Michael Kors Access smartwatch, which came with a commercial starring Zendaya, we were introduced to a watch that looked designer, but was packed with the kind of technology you'd find in a computer. Connected through an app on your phone, the watch itself could receive texts, alert the wearer of calls, help navigate a city and track fitness and steps.
When Mic reviewed it, we were pretty obsessed.
The two latest editions of the Access smartwatch will be available this month, and they have gotten even more blingy and glamorous. The Sofie style is a metal watch laden with pavé bezel marketed towards women; the Grayson style is the bulkier, more industrial one marketed towards men.
For our review, we got to test out the Sofie in rose gold and the Grayson in black.
To quickly run through how these watches really work: You have to download an app called Android Wear (don't worry, you don't have to have an Android phone to use it), make sure your phone's bluetooth is on and then the app should immediately recognize the watch and pair with it. From there, your phone connects with the watch and the watch can get all the information it needs, like your calendar, reminders and texts.
Now is when you can have some fun. One of the most entertaining things about these watches is the customizable options.
With a flick of a finger, the face of your watch can take on various forms. Our personal favorite background on the Sofie is "Notes" and it looks like the night sky, but with diamonds. From there you can customize the colors too, and even change the time to be hot pink.
Other cute backgrounds include a glitzy map, a daisy and just straight-up pavé diamond face. Very Mariah Carey.
For the Grayson watch, which is the one marketed towards men, you have face options like "Speedometer," which looks exactly how you think it looks, "Gauge," which you can see below, and many more too.
The new watches allow you to connect to your Instagram and Facebook accounts, too, which means a selfie or any other very important personal picture could become the watch background. Who doesn't want that?
There are also plenty of strap options for someone who enjoys matching their watch to every little thing they're wearing.
The features of smartwatches on their own are awe-inspiring, but the fact that it wraps those features into such a flashy design will make the wearer feel like someone outrageously important. You can schedule alarms and reminders just by talking straight into the face, which is helpful for anyone on-the-go.
Syncing your office calendar to your watch comes with some perks, like getting reminders for when there are free bagels in the office.
To get technical here, the watches have a 24-hour battery life, and can get completely charged up in two hours. Prices start at $350, and go up from there based on band, features and extra crystals.
All in all, if you're looking for a smartwatch that indeed doesn't look like a smartwatch, then this is an excellent option for you. Just think about how good your selfie would look in that thing, honestly.