Yvonne Orji is on her way to becoming your favorite black funny woman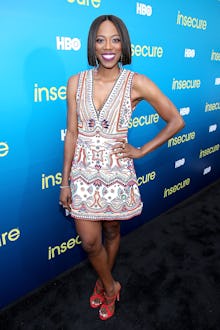 Yvonne Orji wasn't supposed to become famous. At six years old, she moved to the United States from Nigeria with her parents so she could live out the American dream. Translation: Like so many other immigrant children, Orji was told by her parents that she should become a doctor, lawyer or engineer.
But, during a recent visit to Mic's New York office, Orji told me that God had other plans for her. It wasn't until 2006, after getting a master's degree in public health at George Washington University, that she finally faced the fact that she didn't want to go to medical school. (She hated blood and organic chemistry.) That year, she tried her hand at stand-up comedy while participating in the Miss Nigeria in America pageant, performing a five-minute set about growing up in a Nigerian family. After she landed a few jokes, she knew she had to pursue a comedy career.
Now 33, Orji is best known for her role on HBO's Insecure as Molly, the career-driven, lost-in-love BFF to the show's lead character, Issa. There are glimpses of Orji's fun personality on the show. At the Kiss and Grind party in the episode "Hella LA," we see her turn-up levels sky rocket as she dances to Too Short's "Shake That Monkey" and grinds up on her married friend, Dro, to "Slow Motion." And she occasionally doles out a witty quip back to Issa. (After Issa says her future with her ex-boyfriend Lawrence is unclear, Molly shoots back: "Bitch, are you a magic eight ball? What that mean?") Mostly though, Orji plays it straight on the hit half-hour comedy.
But Orji isn't Molly in real life. Her character onscreen went the corporate route, and is feeling unfulfilled with her career as a lawyer; Orji's star, meanwhile, is on the rise, and some of Hollywood's biggest comedians are already taking notice. On Tuesday, Deadline reported that Orji is set to join Kevin Hart's upcoming comedy Night School, with another recent breakout star, Tiffany Haddish. In May, Orji opened for Chris Rock in Atlanta on his Total Blackout Tour.
"Opening for Chris Rock was amazing," she said in the Mic office. "I got off the stage and he was like, 'You got some good stuff, you're good!' And I was like, 'I think I got the Chris Rock stamp of approval, and I'm good to go, guys.'"
A few years ago though, Orji said, she couldn't have imagined that this is where she'd be. In 2012, she moved to Los Angeles after living in New York City to pursue stand-up full-time; she had previously started her own comedy night in midtown Manhattan called "Mama I Made It." But her grand plan, at the time, was to become an actress. Orji thought stand-up would just be the stepping stone to landing a role on a TV show or in a feature film. She worked in the writers' room of the Martin Lawrence-produced sitcom Love That Girl!, which aired on black network TV One, but she started to hit a few roadblocks in 2014, when the last episode aired.
After attending the NBC Short Film Festival that year, Orji was standing on Sunset Boulevard in tears, wondering when her big break would come. Comedy, she said, called her back through the voice of God.
"It was like the darkest time that really forced me to rely on my faith, solely on God, and solely on the vision that he had given me so many years ago," she said.
Shortly after, Orji sat down and started writing — again focusing on what she knows best: growing up Nigerian in America. She wrote First Gen, a sitcom pilot about a Nigerian-American medical student who decides to defy her strict mother and become a stand-up comedian. The project is still in development, but she's got Golden Globes-nominated actor David Oyelowo, who is also Nigerian, on board as an executive producer.
"There's still a divide or a bridge of what it's like to be one, an immigrant, but also what it's like to be African," Orji said. "So I just want a family television show that kind of talks about different things and show that we are more similar than we are different."
For now though, Orji will keep audiences laughing at local comedy clubs, church conventions and other venues. Orji does "clean" comedy — it's family-friendly and she doesn't curse — because she's committed to her Christian faith. Her set includes jokes about dating, being a 33-year-old virgin and growing up as a Nigerian immigrant. Laughs aside, she knows that breaking down walls around the immigrant experience is increasingly important in today's America.
"I want to normalize the African experience," she said. "We are your kids' best friends. We are your neighbors next door."