Ahead of NYFW, 2 major fashion powerhouses band together to ban underage, underweight models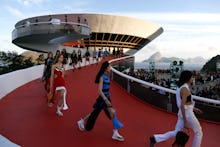 Ahead of fashion months across the world, two of the largest fashion conglomerates — LVMH, which is home to brands like Louis Vuitton, Fendi, Dior, Céline, Givenchy and Marc Jacobs and Kering, which owns Gucci, Alexander McQueen, Balenciaga and more — have issued a joint charter on their dedication to bettering the treatment of models worldwide.
Specifically, the charter offers guidelines on underage models, underweight models, nudity, hours, compensation and more.
"Our groups strongly believe that it is our ethical and social responsibility to ensure the well-being of all models working with our Houses," the charter reads.
This belief echoes our strong commitment to human rights, respect for diversity and gender equality. Therefore, after consulting industry professionals, we have jointly developed guidelines, which go beyond the legal requirements, in order to ensure that fashion models are always provided with proper working conditions. We hope to see the whole fashion industry follow suit. We are putting a monitoring committee in place whose role will be to ensure that all of the following guidelines are implemented effectively.
In regards to underweight models, it was just this May that Louis Vuitton came under fire for booting a model from its show who was just a size 2, so these guidelines come at a particularly poignant time.
Specifically, the new rules are that LVMH and Kering have made their brands commit to not casting women who are a French size 32, which translates to a U.S. 00, or men who are a French 42, which translates to smaller than a U.S. men's XS. There also must be food and drink on premises, as well as access to a psychologist or therapist during working hours.
Now for underage models, the new guidelines are that all brands owned by LVMH or Kering can no longer hire models younger than 16 to participate in shows or photoshoots and represent an adult, meaning that it has to be clear in the show or shoot that they are children. There's also a stricter policy now on when they younger models can work, with the conglomerates banning models 16 to 18 years old working between 10 p.m. and 6 a.m. Nudity for younger models is addressed too, now with a policy that if the model is younger than 18, an agreement must be signed by both the model and their representative.
There are also clearer guidelines on payment, unannounced inspections of castings and shoots and an assurance that models can complain if they feel like they've been mistreated.
All of this says one thing: LVMH and Kering are serious about improving the lives of the models who work with their brands. This all comes at a time when models have grown more outspoken about certain brands abusing them. Notoriously earlier this year, a casting for a Balenciaga show (a brand owned by Kering) made headlines because the casting directors allegedly made 150 models wait for more than three hours in a stairwell.
So by outlining these specific policies, Kering and LVMH are at least trying to make sure that as many models as possible aren't abused or mishandled when they're really all just trying to do their job.