What grassroots groups learned from fighting Trumpcare — and how they'll apply it to the DACA fight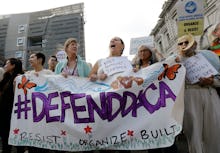 Through early August, grassroots groups helped face down four versions of health care bills supported by the White House and Republican leaders in both chambers of Congress. Though deeply unpopular with Americans, one of those proposals cleared the House and another came just one vote short of advancing in the Senate.
Now, those same groups have six months to pressure Congress to pass legislation aimed at protecting the estimated 800,000 undocumented immigrants whose statuses have been thrown into limbo by the Trump administration's recent decision to end the program designed to protect them.
Grassroots leaders have drawn clear parallels between the two legislative fights in hopes that lessons from the health care clash can be applied to a new priority: preserving the Deferred Action for Childhood Arrivals program, also known as DACA.
The coordination among progressive organizations to oppose Republican health care bills drove millions of calls to Congress and thousands of individual actions. The personal nature of the health care fight will be shared in the battle to preserve DACA, organizers said, as program recipients face what's been called a "countdown to deportation."
"Progressive organizations are weighing in with substantial firepower," Murshed Zaheed, vice president and political director for CREDO Mobile, said. According to Zaheed, CREDO's list of 5.7 million email subscribers helped drive online opposition to the various GOP health care bills.
"You're going to see the same effect [in the DACA fight]," Zaheed said.
Democrats and a host of supporting groups are pushing for passage of the bipartisan DREAM Act. First introduced in 2001, the DREAM Act would give people who immigrated to the U.S. as children a pathway to citizenship.
A day after the Trump administration announced it would end DACA with a six-month wind-down period, Democrats unanimously voiced opposition to ending DACA and many threw their support passing the DREAM Act. But according to Politico, they're not yet prepared to hold up Congress on "other must-pass bills [in September] in exchange for a DACA fix."
"What we learned from the health care fight is that organized, direct constituent pressure can change what's politically possible."
For grassroots groups, that means pressuring Democrats to force Republicans to take up the DREAM Act while also pushing vulnerable Republicans to be more receptive to immigration reform.
"What we learned from the health care fight is that organized, direct constituent pressure can change what's politically possible," Indivisible Project press manager Helen Kalla said. "Specifically, showing up in person — at town halls, at district offices — with a unified message is effective at influencing members of Congress."
During the health care debate, organizers said the number of direct actions, including those where protesters faced arrest, were a step forward for a community that had previously avoided such direct confrontation. For example, members of disability rights group ADAPT made national headlines after holding sit-ins at Republican Senate offices in protest of Medicaid cuts. Many protesters were arrested, with some being forcibly removed by law enforcement.
Direct actions in the immigration fight have already begun. On Tuesday, activists across the country marched to show their opposition to the DACA decision; the following day, a host of progressive and Democratic-aligned groups in Pennsylvania pledged to occupy the offices of both Republican and Democratic members of Congress.
"It sounds cliché, but a small group of brave and organized people can make a difference," Working Families Party national communications director Joe Dinkin said. "It was the highly visible direct actions ... that helped change the conversation. People will need to step up boldly and put themselves on the line."
Groups know that pressure on Republicans and Democrats to let DACA recipients remain in the U.S. won't just come from phone calls and protests. Just as they did during the health care fight, these groups plan to run advertising with the goal of further shifting public opinion in favor of Congress protecting recipients.
"With the DREAM Act, as with health care, the focus should be on the families that the wrong actions would harm — not on legal technicalities or political theory," Ben Wikler, Washington director at MoveOn.org, said. "No matter what new tweet is in the headlines, we have to remind legislators every day that if they fail to act, we'll hold them accountable."