DACA by the numbers: Hundreds of thousands rely on immigration program that's now under threat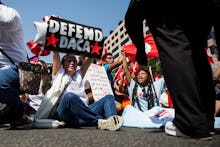 On Tuesday, President Donald Trump's administration announced that it would be ending the Deferred Action for Childhood Arrivals program, upending the lives of the hundreds of thousands of immigrants who have come to rely on the Obama-era program.
The DACA program, which first took effect in 2012, allows those who immigrated to the U.S. illegally as children to be shielded from deportation, as well as grants them the ability to legally work in the United States.
Trump's stance on the program has wavered throughout his political career: Though the then-candidate committed to immediately ending the program while on the campaign trail, Trump said soon after his inauguration that DACA recipients "shouldn't be very worried" and praised them as "terrific" on Friday.
The president's decision to end the program comes with a six-month delay, pushing DACA's fate into Congress's hands. Several Republican lawmakers have already come to DACA's defense and called for a legislative solution, though Trump's support of such a bill may depend on its other provisions for legal immigration, including money for the president's border wall.
Here are the numbers behind the immigration program that's now under threat.
1,932,000
Total number of immigrants in the U.S. who are eligible for DACA as of 2016, according to the Migration Policy Institute. The total includes those who are eligible for DACA except for education and those who will be eligible in the future, in addition to the 1,307,000 who are immediately eligible for the program.
787,580
Number of initial DACA applications that have been approved through March 2017, according to U.S. Citizenship and Immigration Services. The primary country of origin for DACA recipients is Mexico, with 618,342 approved initial applications, followed by El Salvador, Guatemala, Honduras and Peru.
6.5
Average age of DACA recipients when they arrived in the U.S., according to a 2017 Center for American Progress survey using a sample size of 3,063 DACA recipients. To be eligible for DACA, potential recipients must have arrived in the U.S. before their 16th birthday.
78
Percentage of registered voters who believe DACA recipients should be able to stay in the country as citizens (56%) or legal residents (22%) if they meet certain requirements, according to a Morning Consult/Politico poll conducted in April 2017.
Of those who responded to the poll and voted for Trump in 2016, 48% believed the recipients should be able to become citizens and 25% said they should be legal residents, with only 23% believing they should be deported or removed from the U.S.
25.2
Average current age of DACA recipients, according to the CAP survey. Recipients must have been under the age of 31 in June 2012 to be eligible for the program.
4 to 6
Average processing time for DACA applications (in months), according to USCIS information cited by the National Immigration Law Center.
91.4
Percentage of DACA recipients who are currently employed, according to CAP. The percentage climbs to 93.3% for recipients above 25 years old, and 68.5% say they were able to get a job with better pay after their DACA application was approved.
44.9
Percentage of DACA recipients who are currently in school. The CAP survey found that of those respondents, 71.5% are currently pursuing a bachelor's degree or higher, and 65.3% of all respondents said they have pursued educational opportunities that they previously could not because of DACA.
72.7
Percentage of DACA recipients who have an American citizen spouse, child or sibling, according to the CAP survey.
$1,603,068,000
Amount in local and state taxes paid by DACA recipients, as calculated by the Institute on Taxation and Economic Policy. If DACA protections are revoked, that number is projected to fall by nearly $800 million to an estimated $805,751,000.
$460.3 billion
Estimated loss to the national GDP over the next 10 years if DACA is revoked, as calculated by the Center for American Progress.