Here's what Sen. Bob Menendez's trial means for the Senate — and for Democrats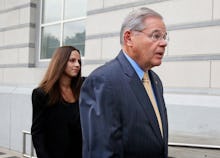 Sen. Bob Menendez (D-N.J.) arrived at a federal court house in Newark, New Jersey, Wednesday for the opening day of his corruption trial — a case that could reverberate beyond the Garden State and into the Senate chamber.
Menendez, a U.S. senator since 2006, was indicted in 2015 on 14 counts of corruption — including eight bribery counts — for allegedly using his political office to benefit a Florida ophthalmologist friend who returned his favors with gifts, vacations and campaign contributions.
The high-ranking Democrat has maintained his innocence in the two years since, saying the gifts from Salomon Melgen, who is also facing charges, were the product of his longtime friendship with the rich eye doctor, not an unethical political relationship.
But Menendez is in potentially grave legal trouble, and the results of his trial could influence the future of politician-donor relationships — as well as impact the political calculus for Democrats hoping to resist the Senate's Republican majority as it seeks to enact the far-right agenda of President Donald Trump.
The case against Menendez
In its April 2015 indictment, the Department of Justice alleged Menendez and Melgen had a symbiotic relationship for seven years, beginning with the New Jersey Democrat's early days in the Senate in January 2006 through January 2013.
According to the DOJ, Melgen showered Menendez with gifts worth nearly $1 million, including flights on his private jet, lavish vacations and more than $750,000 in campaign contributions — gifts Menendez allegedly failed to include in his financial disclosures.
In exchange, Menendez purportedly used his Senate office to "influence the outcome of ongoing contractual and Medicare billing disputes worth tens of millions of dollars to Melgen and to support the visa applications of several of Melgen's girlfriends."
"Government corruption — at any level of elected office — corrodes the public trust and weakens our democratic system," Assistant Attorney General Leslie Caldwell said in a statement at the time. "It is the fundamental responsibility of the Department of Justice to hold public officials accountable by conducting thorough investigations and seeking an indictment when the facts and the law support it."
Menendez has argued the gifts from Melgen stemmed from their friendship and dismissed the allegations against him as politically motivated.
"I am outraged that prosecutors at the Justice Department were tricked into starting this investigation three years ago with false allegations by those who have a political motive to silence me," Menendez said after his indictment in 2015. "But I will not be silenced. I am confident that at the end of the day, I will be vindicated and they will be exposed."
He has continued to maintain his innocence, telling reporters ahead of his trial he was "going to be exonerated."
The implications of a Menendez guilty verdict
But what happens if Menendez fails to be exonerated as he predicts?
According to the New York Times, a Menendez guilty verdict could draw the line marking where personal relationships cross over into political ones.
"That's one thing that makes this case interesting," Robert Mintz, a former federal prosecutor in Newark, told the Times. "It asks the existential question as to when friendship ends and corruption begins."
Perhaps more viscerally for Democrats, a guilty verdict would force Menendez out of office, potentially allowing Trump ally and New Jersey Gov. Chris Christie to install a replacement — something that would likely bolster Republicans, who currently hold a majority in the Senate with 52 seats.
But Christie is a lame duck, set to leave the governor's mansion in January. If a potential Menendez ouster is drawn out until Christie is succeeded — possibly by frontrunning Democrat Phil Murphy — the new governor may be able to call a special election, which could potentially help Democrats retain their seat in left-leaning New Jersey.
Still, it's unclear what would happen if Menendez is convicted or if he accepts a plea bargain. In all of Senate history, only four senators have been convicted of crimes: Joseph R. Burton in 1905, John Hipple Mitchell in 1905, Truman H. Newberry in 1920 and Harrison Williams in 1981. (Williams is also the most recent example of a sitting senator being put on trial for federal corruption charges.) Of those four, Mitchell died and Burton, Newberry and Williams resigned from office.
In addition to the rarity of Menendez's trial, the impact of a guilty verdict is also muddied by vague New Jersey laws governing Senate vacancies, according to the Philadelphia Inquirer. If Christie finds himself in a position to replace Menendez, it is unclear whether that individual would serve until the next regularly scheduled election in November 2018 or if Christie's successor could call a special election sooner.
In the meantime, the trial itself could have repercussions on the Senate floor: U.S. District Judge William H. Walls, who is overseeing the case, shot down Menendez's request for breaks on the trial for important votes.
"The Supreme Court has repeatedly refused to extend special treatment to members of Congress ..." Walls said in his denial issued Thursday. "Menendez is given the same choice as any other criminal defendant."
Opening arguments in the Menendez trial began Wednesday. The trial is expected to last six to eight weeks.