A DACA recipient on what should come next: "This is the beginning of a new fight"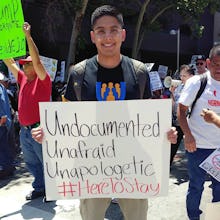 For some young DACA recipients, Tuesday's news isn't the end of the road — it's the beginning of a new fight.
On Tuesday, United States Attorney General Jeff Sessions announced that President Donald Trump was ending the Deferred Action for Childhood Arrivals program, which allowed young undocumented people, many of whom were brought to the U.S. as infants, to live and work in the U.S. without fear that they would be deported.
Now, the Trump administration says it will end DACA in six months — after which, barring any intervention from Congress, those who had enrolled in DACA will be treated "like any other person in the country illegally."
For young undocumented immigrants, Tuesday was a "difficult," if not entirely unexpected, day — at least according to Justino Mora, a 28-year-old Los Angeles resident and DACA recipient.
Mora came to the U.S. from Mexico at 11, fleeing domestic violence and poverty, and he knows firsthand how life-changing the DACA program was for young undocumented immigrants.
Growing up undocumented, "Teachers would always tell me, if you excel in school you'll be able to get opportunities," Mora said in a phone call on Tuesday. But, before DACA, "that was not the case."
"For undocumented people, there are many doors that are closed," Mora said. He wasn't eligible for financial aid and he couldn't get a job or a driver's license. Mora said he lived in fear in the country in which he'd grown up.
But when former President Barack Obama instituted DACA, Mora said, "everything changed." In addition to being able to work, drive and contribute fully to his community, Mora said he could finally "feel safe."
Tuesday's news threatens to upend all that. According to Mora, Tuesday was "a really difficult day, for many DACA beneficiaries, including myself." As much as Mora said he had been expecting the news from the Trump administration, it was still disappointing.
However, for Mora, who has been an activist since 2009 and is the co-founder of UndocuMedia, an immigrant-led advocacy organization, the announcement of the end of DACA is the start of a new era.
"We're using this energy to continue fighting," Mora said. "This is the beginning of a new fight."
On Tuesday, the day of the Trump administration's announcement, Mora participated in a massive pro-immigrant rally in downtown Los Angeles, and he says there are more displays like that to come.
"We are going to be be protesting and marching in larger numbers now," Mora said. "In order to defeat this anti-immigrant narrative of who deserves to be here in the United States, we have to be really outspoken."
As for Mora's advice to allies who want to help support the undocumented community, including DACA recipients like him? "The best way to support undocumented community is to show up — there's power in numbers," he said, adding "This fight is going to be a really long."