The most popular Airbnb in all 50 states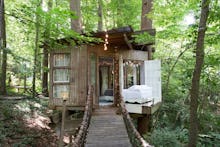 Ever wanted to sleep in a secluded tree house, a vintage airstream or a 40-foot lookout tower? If you can dream it, you can probably book it on Airbnb. The vacation rental marketplace has more than 3 million listings around the world, and many of them are a far cry from the uniform look of chain hotel rooms.
Mic asked Airbnb to analyze the accommodations in each state that were added to users' "wish lists" the most — and a glance at the results reveals the diversity of the rentals. Check out the rentals below, and then start planning your next getaway. Prices reflect Airbnb listings as of press time.
Not pictured here: The gorgeous shores of the Gulf of Mexico that you'll see from the deck of this beachside condo. The sunny spot also has a swimming pool and is located close to restaurants and shopping. The rental accommodates six guests and rates start at $100 per night.
This cozy log cabin allows four guests to experience the last frontier. Located in a wooded area rife with wildlife and nature trails, visitors can see the Northern Lights on a clear evening. This rental is not, however, for those who want a glamping experience: Visitors will have to use an "authentic Alaskan outhouse" in lieu of indoor bathrooms. The cabin starts at $85 per night.
Arizona: A quiet cabin in Flagstaff
No phone, no AC, no cable TV and no internet means this rustic, 755-square-foot cabin is for those in search of an earnest getaway. The A-frame home is set on 1.5 acres that border the Coconino National Forest. It's close to must-sees like the Grand Canyon, Sedona, Meteor Crater and Walnut Canyon, where visitors can catch a glimpse of Arizona's magical night sky. The cabin accommodates four guests starting at $109 per night.
If cabin life is calling, this secluded, vintage lodging with a mountain backdrop is the answer. Accommodating six guests, the house sits on 20 acres of land in the Ozark Mountain region. Bookings in this delightful retreat start at $109 per night.
This private pool house sleeps three and includes amenities like a hot tub, a barbecue and free gated parking — a priceless amenity in downtown Los Angeles. The house is close to airports and just 45 minutes from Disneyland, but once you experience the breathtaking sights from your private haven, you'll probably have trouble leaving. Rates start at $125 per night.
Vintage charm and thoughtful decor make this 1880s carriage house a lovely place to spend a long weekend. Since it's walking distance from local craft breweries, no one will need to serve as designated driver. A hot tub and private garden put this place, which sleeps three, over the top. Rates begin at $133 per night.
Connecticut: A private island in East Hampton
Welcome to Laurel Island, a five-acre retreat that sleeps up to 36 people. Accommodations include five guesthouses with full kitchens and shared and private cottages. Renters can swim, kayak and canoe, or play volleyball, badminton, bocce ball and croquet. The cost for the entire private island for a weekend is $250 per person, with a minimum of 20 people, but the hosts offer several other options for renting.
Delaware: A beach condo in Bethany Beach
Located in Sea Colony, a resort community close to the beach, this condo gives renters access to tennis, pools and shuttle service to and from beach. Want to spend days at the beach and nights cozied up in a comfortable spot? This space, which sleeps two, is for you. The condo starts at $110 per night.
You can have it all at this rental, which includes a tropical garden and a pool. The hosts include bike rentals free of charge, so visitors can take a leisurely ride to the beach when the shore calls. The home is located in a quiet neighborhood and sleeps two. Rates start at $85 per night.
Just one look at the dreamily lit tree house would make anyone want to fly to Atlanta immediately. The accommodation has a suite of three furnished rooms among the trees: a sitting room, a bedroom and a hammock deck. And despite the seclusion, these rooms are just a couple of minutes from downtown Atlanta. Two people can stay in this forest retreat. Rates start at $375 per night.
The words "tree house" and "luxury" aren't usually paired together, but this jungle stay is anything but conventional. It has an opulent interior (think golden '70s wallpaper) and a simple bamboo exterior. Two guests can enjoy a comfortable tree house stay 15 feet off the ground, located just 10 miles from Volcanoes National Park. Rates for this canopy of dreams start at $200 per night.
Just nine miles from the base of Grand Targhee Ski Resort or an hour drive from Jackson Hole Mountain Resort, this cabin is ideal for ski fanatics. Come summertime, renters can enjoy hiking, biking and fly fishing in the surrounding area. With views of the Tetons, this 2.5-acre property is lightyears better than a ski resort. Two guests can take advantage of this special respite. Rates start at $95 per night.
Enjoy city and nature with this inviting apartment located in the heart of Logan Square. A tranquil garden offers a relaxing oasis while the spot's proximity to trendy bars and restaurants means you have easy access to the Windy City. The vintage apartment sleeps five, with rates starting at $150 a night.
Indiana: A bungalow in Bloomington
This 1920s-style bungalow is in the heart of an artsy neighborhood, and the Airbnb hosts are building a wood-fired bread oven micro bakery in the backyard. (Bonus: They serve the artisan bread with locally made jams for breakfast.) No doubt guests — up to four — will feel at home in the unique lodging. Great eats, drinks and music venues are just a walk away. Rates start at $74 per night.
As Iowa is the 12th largest milk-producing state in the U.S., hunkering down in an old creamery is really doing it the Iowa way — right? This remodeled loft, which sleeps five, is eclectic and artistic. A private deck with greenery extends out from one of the rooms while a downstairs common space has a library stocked with books. On the grounds outside, guests can wander around chicken pens or a peaceful patio. There's also a lush park nearby. Rates start at $70 per night.
Peace, quiet and comfort are all synonymous with Apple Cottage, set on a working farm with lots of space for walking, hiking and biking. At breakfast time, guests — up to four — can taste fresh eggs from chickens who live on the farm. Downtown Oskaloosa has a bustling music scene and excellent places to eat and drink. Nightly rates start at $59.
Twentieth-century charm still pours out of this restored 1907 home called the Harvest House. The loft of this one-family house includes a private bedroom, refrigerator, record player, bathroom and workspace, as well as a private entrance. Previous guests rave about the bird watching, expert hospitality and close proximity to the Highlands, a vibrant, artsy neighborhood. The space sleeps two, with rates starting at $79 per night.
Louisiana: A guest cottage in the heart of New Orleans
If you're spending time in New Orleans, you're definitely not spending most of it inside. But this centrally located, comfortable rental provides visitors with everything they need after a day of eating and drinking in the Big Easy. This rental is located on Esplanade Avenue, a historic street in the heart of the city that's walking distance to hotspots like Bourbon and Frenchmen streets. The space can host three and provides complimentary bikes for getting around the city. Rates start at $85 per night.
A rustic retreat awaits at this special home. It's an hour away from scenic views in Bar Harbor and Acadia National Park, so you'll have access to the ocean and hiking areas. Musicians will be psyched about the baby grand piano, pictured above. The cottage sleeps four guests, with rates that start at $90 per night.
In this getaway on the western shore of Chesapeake Bay, two guests can sit back and enjoy dazzling sunrises and sunsets. The tranquil home, called Light Landing, has a screened-in porch, tree swings, a double hammock and a beautiful marble bathtub. Visitors can swim, kayak and crab depending on the season. Rates start at $118 per night.
This two-story structure is a round cottage that looks like it was plucked straight from a storybook. A canopied queen bed, views of a lily pond and the soothing noises of a nearby babbling brook all add to the fairytale feel. The cottage sleeps two and rates start $225 a night.
A stunning hideaway gives up to four guests an uninterrupted view of the Pere Marquette River, and its extra-large windows make nature-gazing inevitable. With no television or Wi-Fi to drain your brain, you'll have plenty of time to kayak and canoe or use the fire pit to roast s'mores. Rates start at $125 per night.
Spend time away from it all at this cabin. Rather than traffic or city bustle, you'll hear the soothing sounds of the nearby Baptism River. The property accommodates three and offers true privacy, as there aren't any other cabins as far as the eye can see. Whether you want to hike Lake Superior trails, rent a canoe or go fishing, the cabin will serve as a haven for reflection when your day is done. Rates start at $79 a night.
Mississippi: A quaint cottage in Bay St. Louis
"Quaint" is oft-overused to describe small houses, but it's entirely appropriate in the case of Palm Cottage, a sweet rental with idyllic outdoor eating spots that's just a short walk to the beach. Situated on an acre of land, this home that sleeps four is a nature-lover's dream: Gorgeous trees, gardens and a nearby duck pond are all accessible in a pinch. Rates start at $75 per night.
Missouri: A corner loft in Kansas City
Rarely does a loft have a kitchen nicer than the one you've got at home, but that's what you get with this Kansas City charmer. And if you don't feel like cooking, this two-person rental sits directly above a bakery. Smack in the middle of Kansas City, the modern apartment is close to excellent jazz bars and the city's free streetcar line. Rates begin at $109 per night.
This is a one-bedroom home that, upon first glance, might appear ramshackle. But the contemporary details inside prove otherwise. Hike, shop, swim, eat and do all the things you've always wanted to do in Montana's great outdoors with this elegant, remodeled home as an impeccable base. Rates start at $195 per night.
Not into the tiny house trend? This adorable Nebraska lodging is about to change that. This little home can host up to three guests (and small pets are OK, too). It sits right on a goat farm, so by the end of your stay, you'll be both a tiny house and goat enthusiast. The space offers just the basics — it should be noted that claustrophobics might not adore the sleeping loft in which standing is not an option — but it has everything you need for a quiet getaway. Rates start at $75 a night.
Picture everything you associate with Las Vegas and then toss those images aside. With its airy feel and beautiful windows that welcome real, authentic sunshine, this delightful Vegas guest house is the antithesis of windowless rooms and artificial lighting that define the typical Sin City experience. A private pool, sauna and barbecue will be more relaxing than the attractions on the main strip, but if not, that's a mere five miles away. This accommodation hosts two guests, with rates starting at $115 per night.
Welcome to life in the sky when you book this four-person sanctuary that has heavenly views of the Uncanoonuc Mountains. When you're not reveling in your rental of great heights, you can check out the hiking trails, cool off in Uncanoonuc Lake or head to town to do some antiquing. The sky's the limit, especially here. Rates start at $150 per night.
This Jersey rental advertises itself as especially fantastic for its proximity to New York City. Cheaper than most NYC hotels, the one-bedroom apartment is equipped with a full kitchen, living room and bathroom. Up to six guests can rent the convenient spot, with rates starting at $75 a night.
New Mexico: An Earthship in Taos
Greetings, earthlings. New Mexico's hottest Airbnb is an "Earthship" that sleeps four. As the first Earthship ever built, the home offers off-the-grid living, meaning it makes its own electricity, catches its own rainwater and is heated passively by the sun. It still includes modern conveniences like Wi-Fi, laundry, a luxurious kitchen and a TV with Netflix access. There's even a YouTube video to help guests understand the house's inner workings.
When you're not lounging in this eco-home, you can hike, ski and revel in the natural beauty of nearby Taos. Rates start at $125 per night.
New York: A loft in Brooklyn
The secret to visiting the Big Apple like a true New Yorker without falling asleep to honking cabs? Stay in Brooklyn. This Bushwick apartment is a cost-efficient way to explore the city that never sleeps. The space accommodates up to four and is just 15 minutes from Manhattan by subway. Rates start at $98 per night.
North Carolina: A private studio in Asheville
Friendly goats, an enthusiastic Labrador retriever and nearby cow pastures make this rental a winning choice for anyone in need of some animal therapy. Beyond the four-legged friends, nearby hiking trails, mountain views and a short 10-minute drive to downtown Asheville will provide plenty of activities. Back at the studio, a full kitchen and comfortable double bed await. Rates start at $68 per night.
A whopping 11 guests can find comfort in this ranch-style home equipped with a theater room, small kitchen area and one Tempurpedic queen-size bed. The rentable area is in the spacious basement of the hosts' home; previous guests have said the hosts have been both helpful and quiet during their stay. Rates start at $45 a night.
This two-person studio apartment once belonged to American artist George Bellows. The green wooden floors and intriguing tchotchkes are just part of what give this airy space an artsy feel. Bakeries, bars and beautiful houses to gawk at within walking distance from this spot, as are several museums. Rates start at $100 per night.
Oklahoma: A funky house in Oklahoma City
Five guests can stay at this home located in the Paseo Arts District. The hosts, who are artists themselves, have taken great care in featuring works from artists they love throughout the space. Every room appears to be consciously curated, whether it's striking plants or bright pops of color that set the mood. Restaurants, shops, bars and art galleries are all within walking distance. Rates start at $100 per night.
Oregon: A lookout tower high in the sky in Tiller
Set 40 feet above the ground on 160 acres of private land, the spot is a stargazer's delight and surreal landing for spying on wildlife. Unsurprisingly, the listing is booked for the rest of 2017 (the rest of the photos are worth scrolling through), but dates are available for 2018. This one-of-a-kind rental sleeps four and starts at $175 a night.
Pennsylvania: A cheerful room in Philadelphia
Heading to the City of Brotherly Love? Stay in this bright and spacious private room in the heart of Philly. Guests have access to a sun-filled patio, common living room and all the kitchen appliances you could possibly want. Public transportation and walking-distance entertainment both come easy, as this spot is just a 15-minute stroll to Center City. The room sleeps two and rates start at $65 per night.
Rhode Island: A private loft in Providence
These Rhode Island hosts transformed their attic into a pleasant place that sleeps up to three guests. Two beds, a bathroom with a clawfoot tub and a private entrance make this listing an economical option for visitors who need a comfortable place to catch some zzz's. The listing is a short walk from the vibrant downtown area, and rates start at $75 per night.
From the antique, hand-painted king-sized bed to the glamorous wall of windows, staying in this blissful tree house would certainly be memorable. This wooden paradise in the middle of the woods is quite private. And despite its location among the trees, the listing has air conditioning, a fireplace and an upscale outdoor shower nearby. Two people can rent this romantic retreat, with rates starting at $245 per night.
Located on a working horse ranch, this rustic bunkhouse is made for the equestrian type — guests can even bring their own horses for an extra $10 each. The cabin is close to a ton of outdoor attractions, including the Black Hills National Forest, Wind Cave National Park and the Angostura State Park and Lake. Up to four guests can sleep here. Rates start at $100 per night.
Tennessee: A log cabin in Tallahassee
Enjoy postcard-like views of the Smoky Mountains from the comfort of a hot tub at this remote log cabin that sleeps 10. Thanks to the private location and limited light pollution, the Milky Way is visible on clear nights without use of a telescope. Rates begin at $129 per night.
Vacation a little differently in Texas with this remodeled vintage Airstream that's less than four miles from urban life in downtown Austin. The Airstream, which sleeps two, is equipped with air conditioning, a remodeled bathroom and a small kitchenette. Rent a bike from your host for a quick trip to town or easily access the nearby bus stop. Rates start at $60 per night.
Two lofted beds, a spacious porch and a sanctuary-like bathroom make this snug spot comfortable. The tiny home is located in an RV park, giving guests access to a coin-operating laundry mat, an indoor hot tub and an outdoor pool. The house can sleep up to three, with rates starting at $70 per night.
Vermont: A tree cabin in Waterford
Just 30 minutes from two ski resorts, this heated cabin is an ideal refuge after an active day spent on the slopes. Its cedar hot tub will soothe tired muscles. During snow-free seasons, visitors can enjoy boating, hiking and fishing in the glorious Vermont outdoors. This woodsy wonder sleeps two and is equipped with a stocked kitchen. Rates start at $124 per night.
Virginia: A breezy yurt in Stanardsville
A yurt was bound to show up on this list, and this one, with a hot tub and seasonal salt water pool, doesn't disappoint. Sleeping six, Cair Paravel Farmstead is a 10-minute walk from stellar hiking in Shenandoah National Park's backcountry. This spot is ideal for those wanting some old-fashioned peace and quiet. The listing sleeps six, with rates starting at $185 per night.
Enter this rental through a darling round doorway that begs to be photographed. The "Underground Hygge" sits close to the Columbia River Gorge mountainside, so outdoor adventure beckons. Inside the two-person dwelling, guests can delight in design details reminiscent of Tolkien's The Hobbit. Rates start at $200 per night.
With room for 10 guests, this stunning listing is less than a mile from the Shenandoah River and the Appalachian Trail — but if that's not your speed, the Hollywood Casino at Charles Town Races is less than 10 minutes away by car. The dome has wall murals, a central fireplace and more than two acres of land. Plus, can you resist the 25-foot ceilings and that spiral staircase? Rates start at $199 per night.
Big windows, a welcoming fireplace and a private beach make this cottage a relaxing way to spend time in the Badger State. Guests can kayak, swim, shop, hike, bike or just take in the water views from this unpretentious paradise. Rates start at $125 per night.
This four-person rental doesn't have running water and isn't the closest listing to Yellowstone National Park, but the cabin has plenty of other things going for it. Waking up to a stunning mountain view will make it all worth it, plus a heated outdoor shower, outdoor wash basin and cozy woodburning stove add to the whole "roughin' it" feel. Rates start at $99 per night.