If money were no object, where would you go on vacation? Here's what most Americans say.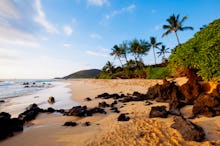 Imagine your dream trip — with an unlimited budget. Maybe it's scuba diving in Bora Bora, hitting the slopes in Jackson Hole, Wyoming, or hanging out with penguins in Antarctica? A bit of fantasy is actually smart if it inspires early planning for an autumn vacation: Flight prices to many destinations tend to dip after Labor Day, meaning now is a good time to start booking your next trip.
But maybe you need some extra inspiration about where to go, exactly. To find out which locales Americans would most like to experience — assuming they could avoid the cost of the trip — Bankrate asked more than 1,000 adults aged 18 and up where they'd venture "if money were not an issue."
The answer? Drumroll... for domestic destinations, Hawaii ranked first. But not all the top choices were for beach lovers. The most popular states were:
1. Hawaii
And, as for foreign countries where people would travel if money wasn't an issue, several European countries snagged top spots:
1. Italy
Notably, 47% of all respondents said they would travel solo, with millennials the most enthusiastic about leaving friends and family behind: 58% said they would do it — including 26% who already have.
How to find cheap flights to your dream destination
One lucky finding of the survey is that your fantasy vacation might be surprisingly doable: "People think of these as dream destinations but actually they are really affordable," said Bankrate personal finance expert Sarah Berger, better known as the Cashlorette. "It doesn't have to be a budget-buster as long as you're strategic about it."
A Hawaii trip is actually one of the best deals that can be found in September, according to travel site Hopper, with round trip flight prices averaging around $604. That includes flights directly to Kona and Maui, in case you want to escape Honolulu. Meanwhile, average flights to California cost $267 versus $241 for Florida.
For international trips in top destinations, prices to Europe are likely to drop more after the winter holidays. But if you absolutely must see Paris in the fall, for example, you might look for deals on discount carriers such as Wow or Norwegian to beat the $882 average round-trip price in September, Hopper's mobile product manager Dara Continenza said in an email. You may be able to find a sub-$500 flight that way, she added.
One trick to saving on a flight is to avoid traveling during peak travel seasons. For example, the Caribbean is busiest from December to May, while December and January is peak travel time in Australia. You can also find deals by searching Google Flights and signing up for deal alerts on the Points Guy website, Berger suggested.
Keep an eye on little costs, too
If you want to be really smart about taking a vacation without winding up with a pile of credit card debt when you get back, calculate your costs in advance. "It goes back to planning," certified financial planner Roger Ma said. Figure out how much your trip will cost, including things like meals, hotels and activities, then set that money aside before you get on the plane.
You can save on hotels by staying at Airbnbs, noted Berger, who said she just came back from a trip to Singapore, in which she and a friend each paid $50 a night for a shared room. You can also avoid foreign transaction fees of as much as 3% on purchases with a card like the Chase Sapphire Preferred or Reserve, which don't charge any. If you're a frequent traveler, you can also offset your total costs by applying points you've accrued to cover your flight or hotel.
Another potential move is to open an account like Charles Schwab's high-yield checking account and put all the funds you'll need for your trip in there, Ma suggested. While you won't earn much interest, you will enjoy unlimited ATM fee reimbursements, which will save you money if you use ATMs abroad.
The main thing you want to avoid is racking up a credit card balance you can't pay off in full after your trip. That's because the interest on your balance will add to the total cost — and the increase in your credit utilization could hurt your credit score, which could make it harder to get future loans with the lowest interest rates.
One smart compromise if your "dream vacation" isn't in your budget? Consider scaling down a 14-day trip to an eight-day one, Ma suggests. Then use some of the extra money you saved to treat yourself to at least one great meal. Chances are you'll still come out ahead, all while having a blast.
Sign up for the Payoff — your weekly crash course on how to live your best financial life.