What's the best credit card? How to pick one that will boost your credit score and earn you rewards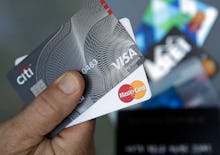 For many people, credit cards are scary. Maybe you've heard horror stories about mountains of debt and ruined financial lives. But there's good news: Armed with the right knowledge, you can actually use credit cards to grow your wealth, build your credit history and earn rewards.
On this week's episode of the Payoff podcast, we're covering all things credit cards, with all the information you need to become a wizard. You'll learn how to use cards intelligently and in moderation to build your credit score — as well as what questions to ask when deciding which credit card is your best bet for staying safe and even earning points for travel or cash back.
For the inside scoop on using and shopping for credit cards, we consulted with fan-favorite Erin Lowry, better known as The Broke Millennial, who runs through all the ways using credit cards can help consumers — even if you have eight different cards, like she does. Love her tips? Lowry was also a guest on a previous episode of the Payoff podcast all about budgeting.
In this episode's second segment, we call up an expert in the art of finding the right card for you: Matt Schultz, senior industry analyst for CreditCards.com. Sometimes just a few smart questions can save you big bucks.
You can subscribe to the Payoff podcast on Apple Podcasts, Google Play, Spotify, Stitcher, iHeart Radio, TuneIn, RadioPublic or wherever you listen to podcasts. Please rate and review — and stay tuned for new episodes every other Wednesday!