What Melania Trump wore her 33rd week as first lady — including, yes, more hurricane heels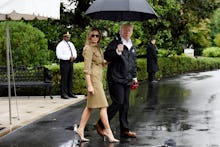 Amid several national crises — from Trump's order on DACA to deadly hurricanes roaring across Puerto Rico and Florida — there was far less attention paid to Melania Trump's fashion choices, compared to last week.
And that's kind of funny because this week she repeated exactly what got her in such trouble last week (wearing heels on her way to visit those affected by Hurricane Harvey).
Here is what Melania Trump wore this week:
Saturday, Sept. 2: Heels once again for boarding the plane to see hurricane damage
We really don't know. Maybe Melania Trump just really likes wearing heels on the short walk from the White House to Marine One, and then to Air Force One to see hurricane damage in Texas.
After a huge controversy when Trump wore stilettos on her way to Texas two weeks ago, she did it again this week, wearing stilettos on her way to Texas.
This time, they were brown snakeskin, and Manolo Blahniks. She paired it with a Ralph Lauren dress she actually wore once before: in Saudi Arabia earlier this year.
Saturday, Sept. 2: Once again, a wardrobe change before seeing hurricane damage in Texas
And yes once again, after an undoubtedly chic look to the plane, Trump quick-changed into an outfit far more suitable for helping hurricane survivors. This time, it was dark green pants, a blue button-down, a hat that read "Texas" and green Converse sneakers.
Sunday, Sept. 3: A pastel ensemble for church on Sunday
For Sunday church services, Trump opted for a typically Trumpian outfit, with a light blue coat by Joseph, a brand based in England, a pink dress and shoes with a bright floral design by Louboutin.
You can see previous recaps of what Melania Trump wore here.