15 states and the District of Columbia sue Trump over DACA decision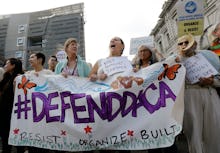 Fifteen states along with the District of Columbia filed suit against President Donald Trump on Wednesday over his decision to end the Deferred Action for Childhood Arrivals program, which allows undocumented immigrants brought to the U.S. as children to live, work and attend school in America.
The lawsuit reads:
Rescinding DACA will cause harm to hundreds of thousands of the states' residents, injure state-run colleges and universities, upset the states' workplaces, damage the states' economies, hurt state-based companies and disrupt the states' statutory and regulatory interests. The states respectfully request that this court invalidate the portions of the DHS memorandum challenged here. Further, the states ask that the court enjoin the federal government from using data gathered for the DACA program in immigration enforcement.
Washington State Attorney General Bob Ferguson — who sued the Trump administration in early 2017 over the travel ban — announced the lawsuit, saying Trump's decision to end DACA infringes on people's constitutional right to due process and equal protection.
On Monday, Ferguson vowed he would take legal action against Trump if Trump ended DACA, saying in a statement that he would "use all the legal tools at my disposal to defend the thousands of Dreamers in Washington state."
"If President Trump follows through on his reported decision to cancel DACA after a six-month delay, the Washington Attorney General's Office will file suit to halt this cruel and illegal policy and defend DACA recipients," Ferguson said in the statement. "We have been working closely with legal teams around the country, and we expect to be joined by other states in this action."
On Tuesday, the Trump administration announced it is phasing out DACA, giving Congress a six-month deadline to pass legislation to protect DACA recipients.
The states that sued Trump along with the District of Columbia are: Connecticut, Delaware, Hawaii, Illinois, Iowa, Massachusetts, New Mexico, New York, North Carolina, Oregon, Pennsylvania, Rhode Island, Vermont, Virginia and Washington.
Sept. 6, 2017, 2:50 p.m. This story has been updated.