Pro-Clinton site Verrit aims to "correct the record" on 2016, co-founder says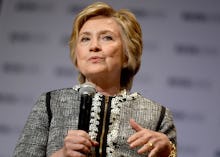 On Sunday, two-time Democratic presidential candidate Hillary Clinton announced on Twitter that she was signing up for a new media site, Verrit, which bills itself as "media for the 65.8 million."
Following the high-profile endorsement, people flocked to the site to figure out what this site that Clinton endorsed was. (The site was briefly taken offline in what Verrit said was a DDoS attack.) But despite some of the ensuing takedowns and critiques written about the site in recent days, many people were still left wondering — what even is Verrit, and what does it intend to do? If you sign up to the site's emailing list, what are you in for?
Verrit, which was founded by progressive activists and staunch Clinton supporters Peter Daou and Leela Daou, bills itself as "media for the 65.8 million" — a reference to the number of people who cast votes for Clinton in the November 2016 election and who, according to an introductory post on the site, "continue to be marginalized and harassed." The site primarily posts digital cards, called Verrits, that feature quotations, statistics or data points that support Democratic talking points. The digital cards include verification codes that a user can search on the website to confirm that the factoid has been checked by the people running Verrit.
In an interview, Peter Daou, who worked for Clinton's 2008 presidential run, said the site has three primary functions: part fact-checker, part blog ("an extension of my Twitter thoughts and a place to do longer form pieces," Daou said) and part "sanctuary" for Clinton supporters. Daou said he did not ask Clinton to endorse Verrit, although he said he was grateful for her support.
The founders originally envisioned Verrit to be a collection of the digital cards but decided to expand the site after a few months. The existing version of Verrit includes blog posts and analysis pieces authored by Daou, as well as source materials for the Verrit cards. In addition, the site has a commenting feature for users who want to weigh in.
Daou, who serves as Verrit's CEO, stressed that Verrit is in its very early stages, and he said he wants to expand Verrit further, with more articles from contributors, a podcast he'll host (Daou wants to launch it sometime this fall, he said) and some sort of social technology or platform. But the roadmap to build out Verrit isn't crystal clear. For one, the Daous must decide on how to fund the project. So far the two have put in "tens of thousands" of their own dollars into the site, and while Daou said they are willing to fund it further, they are considering crowdfunding or bringing in outside investors. (Clinton, Daou said, does not have any financial relationship to the site.)
In the meantime, there are other kinks to work out. The premise behind the verification codes is that one can, if so inclined, type the code into the site's search bar to find out more information. If the Verrit is a forgery or a joke, the thinking goes, there will be no corresponding page. But a few Verrits posted soon after the site's launch do not have corresponding pages, even though they were posted to Verrit's official Twitter page. Daou said some of those early Verrits were not transferred over following a server switch, but he said that issue will be ironed out in the coming days.
Some Verrits have also drawn scrutiny for their sourcing. Daou said that he and other people working on the site use "standard political research" methods to find quotes, data points and stats that become Verrits, and that most Verrits have two to three sources from news outlets or reputable agencies.
But one Verrit posted in August did not have two or three sources. In fact, it had none — its source was listed as "public domain, source unknown."
In this case, Daou said the quote was chosen to be featured because it was "interesting and notable" and because it had been widely shared, despite the fact that the quote's origin couldn't be verified. Typing the Verrit verification code into the website directs to this page, which links to a post on the website Quote Investigator.
The commenting feature on Verrit has proven to be "incredibly difficult," Daou said. The Verrit team, which consists of Peter and Leela Daou and five volunteers, reviews each comment submission to ensure that it follows the site's guidelines, which prohibits "harassment, name-calling, intimidation, disruption, trolling, conspiracies, profanity, incitement and intolerance." (When asked about how that is enforced, Daou said moderators "know it when [they] see it.")
The purpose of reviewing each comment is, Daou said, to ensure Verrit remains "a place where you can comment, you can interact, you can read and you can do it without being attacked and bullied and intimidated."
Daou said he would not prevent comments that disagree on certain issues, but he said comments needed to be "within the realm of productive and civil and respectable debate." If the number of commenters grows, though, a long-term and more realistic comment moderation system will need to be decided upon. Daou, who has a history of working in progressive digital media, admitted that keeping a platform harassment-free is easier said than done.
In recent days, the site has drawn criticism because of its explicit ties to Clinton supporters, as well as Daou's stance toward Clinton's primary challenger, Sen. Bernie Sanders. In a post on Verrit, Daou wrote that Sanders and the mainstream media "helped put Trump in the White House." The post has drawn ire from progressives and Sanders supporters, who pointed to it as evidence that the site shouldn't be taken seriously.
When asked about the Verrit post, Daou said that there is a misconception about his opinion of Sanders supporters. His distaste for Sanders, he said, stems from what he said were Sanders' "personal attacks" on Clinton, not because he disagrees with Sanders' policy proposals.
"One of the primary purposes here is to correct the record and the false narrative that was created out of 2016."
"Bernie Sanders supporters are exactly like me," Daou said, adding that he would like Sanders supporters who voted for Clinton in November to join Verrit. "We're progressive, we care about the issues, we care about inequality, we care about the billionaires, the oligarchs owning everything. But those who attack women and minorities online, those who attack Hillary Clinton using Republican talking points — I will fight them tooth and nail every day."
"It's actually disappointing to me because I consider [Sanders supporters] to be my ideological kin," he added. "…The vast majority of [Sanders supporters] are my people."
But Daou said the point of Verrit was to correct the "revisionist history" about 2016, and learn "the correct lessons" from Clinton's loss in November, in order to better prepare for future elections.
"One of the primary purposes here is to correct the record and the false narrative that was created out of 2016," Daou said. "Somebody has to tell the true story, and we don't believe that story has been told."
"To me there's nothing more important than getting it right about 2016, because that's the foundation on which all future elections will happen," he added.
Daou also rejected the notion that focusing on 2016 was unhelpful for the future of the Democratic Party.
"Talking about 2016, from my standpoint, is talking about the future," Daou said. "People who voted in 2016 are still around right now. People who vote in an election don't just magically evaporate, and then we're on to new people. … These [Clinton voters] are people who have been invisible. You can't just say, well that's the past, 2016 happened, forget about them."