Why you should visit Guatemala City, the best travel deal in Central America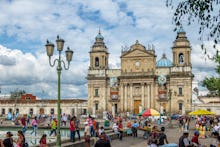 What do Reykjavik, Copenhagen and Positano all have in common? These smaller destinations have attracted hordes of travelers in 2017, who obsessively captured their photogenic landscapes and distinct food cultures on social media. And these spots aren't necessarily once-in-a-lifetime trips that drain your resources, but doable, attainable vacations you can visit in less than a week on a reasonable budget.
So how do you find the next big destination before it becomes too big? I was determined to find out what the next "it" spot might be, and before it inundated my Instagram feed.
When Courtyard by Marriott invited me to stay at their new property in Guatemala City, a place none of my friends had been to and a destination I never thought of visiting, I jumped at the opportunity to check out a so-called up-and-coming destination — before the crowds descend, as they have to Reykjavík. According to data provided by Marriott, Guatemala is forecasted to welcome 1.612 million international tourist arrivals by the end of 2017.
External data backs up Guatemala's surge in popularity. Intrepid Travel has seen a 22% growth in U.S. bookings to Guatemala from 2016 to 2017; an Expedia data expert confirmed via email that interest in Guatemala is up over 20% this year since the same period in 2016.
Americans are interested in Guatemala. But why?
"Guatemala has the perfect combination of cultural sites, picturesque views and extreme adventure to make it a must-see destination for a range of travelers," Paul Adán, vice president of development for Marriott's Caribbean and Latin America Region, said about Marriott's plans to open two additional hotels in Guatemala City by 2019. Adán cited over 19,0000 conferences and meetings in Guatemala, most of them in the capital city, in 2016, as a sign that Guatemala is rapidly developing, motivating him to expand the brand's portfolio for business travelers and, by extension, tourists. Regionally, Adán also predicts Nicaragua and Costa Rica to rise in popularity in the next few years, for similar reasons to Guatemala.
The most populous country in Central America (roughly 15.5 million people live in Guatemala's 109 square kilometers), Guatemala is great for its outdoor adventure and ancient Mayan culture, the opportunity to explore UNESCO World Heritage Sites, boat across Lake Atitlan and the favorable exchange rate (a U.S. dollar is 7.3 Guatemalan quetzales).
Guatemala also has three active volcanoes, hundreds of acres of coffee farms and Mayan ruins. The Mayans, who still live in remote and urban parts of the country, speak more than 20 native languages, cook traditional dishes dating back to pre-colonial times and create traditional textiles and homewares that rival décor you'd find at West Elm.
But does Guatemala have what it takes to become the next big spot for well-traveled millennials?
A manageable size
There's a sense of satisfaction in seeing much of a new place in one trip, like driving all of Iceland's Ring Road over a weekend or forgoing Google Maps after a few days exploring Copenhagen by bike. Destinations like New York City and Tokyo are spread out and hard to see in one trip, but countries like Guatemala (42,042 square miles) are much more doable in a short timespan.
With millennials slacking on using all their vacation days, a destination that's easy to complete in a short trip is ripe for "it" status. Over a long weekend, one could fly into Guatemala City, hop on the shuttle to Antigua ($35 for a one-hour ride) and spend the days wandering through the colonial streets, drinking local coffee and shopping for textiles, all in the shadow of volcanoes.
A mix of urban and outdoorsy activities
Almost a dozen tour operators offered up the same response for what makes Guatemala suited for success: It has it all. Sure, this may be the standard industry answer, but in my four days in Guatemala I walked through the historic streets of Antigua (a UNESCO World Heritage site), hiked Payaca volcano, soaked in hot baths at an outdoor spa, took a boat ride across Lake Atitlan and shopped for Mayan textiles onshore in San Pedro, ate at upscale (molecular gastronomy) and local restaurants and purchased street food for next to nothing.
Guatemala also plays host to several sandy beaches, Mayan ruins in four distinct sites (Tikal, Copan, Quirigua and Aguateca), and urban activities ranging from trendy coffee shops to more traditional Guatemalan eateries.
An up-and-coming edge
Guatemala is similar to its neighboring destinations, Belize and Mexico, but has an unmatched authenticity.
"You can do all those things [volcano hiking, visiting Mayan ruins] in other places, but they're better in Guatemala," Project Expedition co-founder Jeremy Clement said in a phone interview. "It's also much more raw and authentic. It has that Cuba appeal of going back in time because it's still very much a developing economy."
Guatemala also has an "edge" according to Clement — it's important for the government to attract tourists to boost the economy. While Panama, which Clement ranks as a similar destination, has a lucrative income from the canal, Guatemala has no such income stream, meaning a strong emphasis on tourism and good hospitality is necessary to create national revenue, resulting in a better experience for visitors.
A growing economy for an affordable destination
Not every trip is going to be an extravaganza and affordability can sometimes be the main criteria in planning a great trip. "You can do a big trip to Guatemala and not spend a lot of money," Clement said, noting he believes Guatemala to be the best travel deal in Central America. Expedia data shows that hotel accommodations in both Guatemala City and Antigua are on average $100 to $110 per night. Round trip flights average around $400 from Los Angeles and Newark, New Jersey.
In 2016, Guatemala's tourism industry generated 182,500 jobs, and data from Marriott shows that this is expected to grow by 4.9% in 2017 to 191,500 jobs. By 2027, the industry is expected to account for 264,000 jobs, nearly doubling the amount of tourism workers in Guatemala.
The country is, indeed, impoverished (the average salary is roughly $2,700 annually), and ample volunteer opportunities exist for those who wish to help in homes, schools or farms, but spending money in Guatemalan's tourism industry, buying food from local vendors or hiring lifelong Guatemalans to show you around can also help stimulate the economy. The percentage of the national GDP earned from the tourism industry is predicted to nearly double from 3% of the GDP in 2016 to by 5.4% in 2017. Tourism and economy can have a symbiotic relationship in Guatemala; as one increases so does the other, so traveling to Guatemala before everyone you know is planning vacations there may be the smartest investment.
One more reason Guatemala may appeal to milliennials? A certain shade of pink can be found on the exteriors of everything from bookstores to municipal buildings.