"They fail when we need them to act": Immigrants and progressives slam Democrats' deal with Trump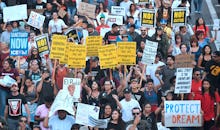 Welcome to Mic's daily read on Donald Trump's America. Want to receive this as an email in your inbox? Subscribe here.
Every day, we bring you a different dispatch on Trump's America. Today's focus: A rift on the left.
Thursday's Dispatch: Immigrant and progressive groups slam Democrats for deal with Trump
On Wednesday, Chuck Schumer and Nancy Pelosi issued a statement that spun heads in Washington.
The Democratic leaders announced President Donald Trump had agreed to package a debt-ceiling increase, Harvey relief and funding to keep the government open all in one bill. Against the wishes of House Speaker Paul Ryan and Senate Majority Leader Mitch McConnell, the extension of the debt ceiling is only for three months.
The move is certain to drive a wedge between Trump and Republican leaders. The GOP will now have to slog through multiple votes on the debt ceiling, and Democrats can claim a political victory two days after the Trump administration announced it would end the Deferred Action for Childhood Arrivals program.
As Schumer and Pelosi take a victory lap, some are questioning Trump's loyalty to his own party. But not everyone on the left is on board with the deal.
Angel Padilla, policy director for Indivisible, said in an interview with Mic the deal means Democrats lost the chance to attach the DREAM Act to must-pass legislation in September. That would have forced Republicans to vote to protect DACA recipients.
"They fail to act when we need them to act," Padilla said of Pelosi and Schumer. "We're talking about 800,000 [recipients]. That's a cause worthy of taking a stand."
In 2016, House Democrats held a sit-in to demand action on gun reform. Senate Democrats have led days-long speeches to blast Trump. But now, some activists do not see the same sense of urgency when it comes to immigration reform.
Indivisible, which has more than 6,000 chapters nationwide, released a joint statement Thursday with United We Dream and the National Immigration Law Center criticizing Democrats.
"Time and time again, Democratic leaders tell immigrants that relief from deportation would come someday down the road — and that someday never comes," the statement read. It called on Democrats to attach the DREAM Act to bills like the debt-ceiling increase.
"Immigrants and progressive activists are doing our part to protect immigrant young people — it is time that you do yours."
This view isn't universal. A leader at one of America's largest immigrant rights organizations told Mic on background that Trump ending DACA was an "emergency" for DACA recipients and that Democratic leaders are moving urgently. "We need them to continue to do so," the source said.
Pelosi and Schumer doubled down on fighting to pass the DREAM Act and helping DACA recipients — in three months, when the debt ceiling would need to be increased again.
But some activists fear Democrats have now lost the momentum to force Congress to act. Organizers are angling to exert pressure on Congress, as they did during the health care fight, but that strategy requires Democrats to turn words into action.
"This is as strong as [Democrats] have been since Trump took office," Padilla said, citing grassroots energy and the defeat of Republican efforts to repeal and replace the Affordable Care Act. "The priority ... is scoring some quick political wins leading up to 2018. To say they're fighting for 'Dreamers' is disingenuous."
Today's question: Would Democrats have been better served in holding up Congress to force a vote on the DREAM Act? Or is moving the fight to December a better option? Please email us at trumpsamerica@mic.com.
Thursday in Trump's America:
Hurricane Irma is wreaking havoc in the Caribbean. The Associated Press has the latest on a storm that has already killed 10 people and is one of the strongest ever seen in the Atlantic.
Florida remains in the hurricane's path. Meanwhile, airlines are facing criticism for skyrocketing ticket prices ahead of the storm.
A top Senate Republican said his panel would begin hearings next week on how to address the six-month wind-down of DACA.
Grassroots groups found success with new tactics during the health care fight. Here's how they'll apply what they learned to the DACA fight.
The decision by the numbers: Who and how many will be impacted by the DACA fight.
Education Secretary Betsy DeVos announced changes to Title IX enforcement that could change rules about sexual assault on college campuses.
Facebook said it sold $100,000 in advertising to a pro-Kremlin Russian organization during the 2016 election.
Wondering what "Verrit" is? Mic's Kelsey Sutton spoke to the controversial cofounder of the website.
At least 26 Confederate monuments have been removed from public land since violence in Charlottesville, Virginia.
Today's MicBite:
Mic's Aaron Morrison spent the last day of the #Cville2DC march with marchers as they crossed from Virginia into Washington, D.C. Read his story about the march and watch the video below.