7 of the most surprising things you can buy with bitcoin — right now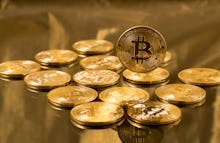 Is buying bitcoin — which has made people millionaires — on your mind? You wouldn't be the only one, especially if you're sitting on the fence. Bitcoin prices have had a tumultuous week, since hitting a record $5,000 per coin Saturday. After the milestone, the value of bitcoin by fell about $1,000 in three days before beginning to recover midweek As of 2:30 p.m. Eastern Friday, bitcoin prices were back up above $4,200 per coin, according to CoinMarketCap.
One major reason prices fell? China cracked down on "initial coin offerings" — a form of fundraising in which entrepreneurs raise cash for ventures in exchange for digital tokens to investors — because of the potential for fraud. Of course, a correction could be healthy, since it's been widely speculated that bitcoin is in a bubble: Coin prices have risen more than 300% since January. On Tuesday, the Nobel Prize-winning economist Robert Shiller told Quartz that bitcoin was the "best example" of what a bubble looks like, implying prices are being driven by irrational enthusiasm, not underlying value.
Still, if you are curious about buying the blockchain-based cryptocurrency, there could be a case for it. After all, bitcoin is more than an asset to bet on: You can actually purchase stuff with it.
That's not always easy. Bitcoin's high-flying prices have made it somewhat impractical as a currency, as rapid fluctuations make it hard to price products. A recent review of payments data from Morgan Stanley found that bitcoin adoption has actually fallen in the last few years: As of July, just three of the largest 500 retailers accept bitcoin payments, down from five last year.
But even as prices continue to fluctuate, there remain fun — and even wild — purchases you can make with bitcoin. Here are seven of the most surprising.
1. An apartment in Dubai
Need a new pad? The Aston Plaza and Residences in Dubai recently announced that the developers would be accepting bitcoin as payment for studios, one- and two-bedroom apartments. Prices start at 27.55 bitcoin, or about $127,800 according to Sept. 7 prices.
2. A brandy distillery
BitPremier is a luxury marketplace where the wealthy can buy and sell real estate, yachts and other high-end items — using bitcoin. Right now a distillery in Nemesvamos, Hungary, is selling its equipment and building for a little more than 73 bitcoin, or about $339,000.
3. A college degree
The University of Nicosia in Cyprus offers a masters degree in digital currency. While the first class is free online, they also accept tuition payments in bitcoin, naturally. The total cost for the degree is about $14,500, but if you pay in bitcoin, you get a 5% discount.
4. A funeral
It's a little morbid and definitely still a niche offering, but at least one funeral home in the U.S., Crescent Tide Cremation Services in Twin Cities, Minnesota, accepts bitcoin for its services. They also offer a 3% discount if you pay in crypto-cash.
5. Pizza
It was only a matter of time before a coder figured this one out: Back in 2013, two bitcoin enthusiasts launched ForCoinsLLC to make it easier for consumers to make purchases with bitcoin. Their website, PizzaForCoins lets you pay with bitcoin at local branches of places like Dominoes, Papa Johns and Pizza Hut.
6. Date night
It's rare, but not entirely uncommon for bars and restaurants to accept bitcoin, particularly in Berlin, where, in 2013, one restaurant owner said about 10% of their customers pay using cryptocurrency. If you're not in Germany, you can use Bitcoinrestaurants.net to track down an eatery in your area.
7. Airline tickets
In the summer of 2014, Air Baltic became the first airline to accept bitcoin payments for airline tickets, though the San Francisco-based flight aggregator CheapAir also accepts cryptocurrency.
Sept. 8, 2017, 2:30 p.m.: This story has been updated.
Sign up for the Payoff — your weekly crash course on how to live your best financial life.