Donald Trump Jr. is meeting with Senate investigators on Russia. Here's what to expect.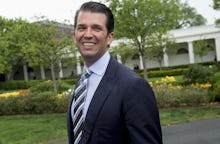 Donald Trump Jr. is appearing before the Senate Judiciary Committee on Thursday to talk Russia — particularly the now-infamous 2016 meeting he took with a Kremlin-connected attorney he believed had dirt on Hillary Clinton.
Here's what you need to know about the Senate investigators' interview with the president's eldest son — and what it could mean for the Russia investigations going forward.
Who is Don Jr. meeting with?
Donald Trump Jr. is meeting with investigators from the Senate Judiciary Committee, which is conducting one of the four major investigations into the Trump campaign's ties to Russia.
The interview will be conducted by Senate staff, but several members of the Judiciary Committee — including Sens. Richard Blumenthal (D-Conn.) and Chris Coons (D-Del.) — will be in attendance, according to the Washington Post.
The meeting Thursday takes place behind closed doors, but Sen. Dianne Feinstein (D-Calif.), ranking member of the Judiciary Committee, told CNN Wednesday that Trump Jr. will eventually give a public testimony — whether the president's son submits to it voluntarily or is subpoenaed.
What is the interview expected to cover?
The primary focus of the interview Thursday will almost certainly center on the meeting Trump Jr. took with Russian lawyer Natalia Veselnitskaya after his father secured the Republican nomination for president.
A music publicist had told Trump Jr. that Veselnitskaya had dirt on Clinton, the Democratic nominee, that had been collected by the Russian government, emails released by Trump Jr. showed.
"This is obviously very high level and sensitive information but is part of Russia and its government's support for Mr. Trump," music publicist Rob Goldstone wrote to Trump Jr.
"If it's what you say I love it," Trump Jr. replied.
Trump Jr. — in a statement crafted by his father — initially claimed that the Trump Tower meeting had focused on "a program about the adoption of Russian children" and the president's team has maintained that it was a "nothing burger."
But the meeting — which was also attended by Trump's son-in-law and senior adviser Jared Kushner and then-campaign manager Paul Manafort — has become a key focus for investigators trying to determine if the Trump campaign colluded with Russia.
Investigators will also likely press Trump Jr. — who is currently helming the Trump Organization with his brother, Eric — on business links to Russia, according to the New York Times. Trump has repeatedly denied having any dealings with Russia, but emails between a business associate and one of his lawyers showed that his company was pursuing a Trump Tower in Moscow while he was running for president.
"Our boy can become president of the USA and we can engineer it," Felix Sater, a Russian-born Trump associate who was once convicted of racketeering in a Russian mafia-linked fraud scheme, wrote to Trump lawyer Michael Cohen. "I will get all of Putin's team to buy in on this, I will manage this process."
What does this mean for the Russia investigation?
The meeting, which began Thursday morning, is expected to last much of the day.
It's not clear what will come of the interview — or how much of it will be disclosed to the public.
Trump Jr. will not be under oath for the meeting, and senators on the Judiciary Committee will not be allowed to ask questions.
However, the interview once again signals how close the Russia investigations are getting to the president, who has repeatedly dismissed the suggestion of collusion between the Kremlin and his campaign a "witch hunt."
Trump Jr. is now apparently the second member of the president's family to testify as part of the Russia investigation. Kushner, his son-in-law, met with Senate investigators in July, insisting that he "did not collude with Russia, nor do I know of anyone else in the campaign who did so."