Kashmire Redd, transgender man, killed in fatal stabbing in New York state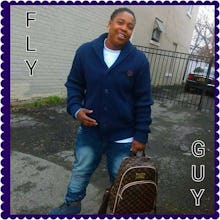 Kashmire Redd, 28, identified by police as a transgender man, was fatally stabbed early Monday morning in his Gates, New York, home — allegedly by his partner, 40-year-old Doris Carrasquillo, local outlet WHEC reported on Tuesday.
Carrasquillo is charged with fatally stabbing Redd in the home the couple shared, allegedly after an argument. She has been arrested and charged with second-degree murder in Redd's death. Kashmire Redd is at least the 19th transgender person killed so far in 2017 — nearly all of the trans people killed so far this year have also been people of color.
The Gay Alliance of the Genesee Valley, a local LGBTQ community organization, is planning to hold an open conversation on Thursday evening to allow the community space to process Redd's death, Gay Alliance education coordinator Rowan Collins said in a phone call with Mic on Thursday.
Redd was "very close with folks who have been part of our organization," Collins said. Collins said the decision to hold an open space for conversation was made to allow room to discuss the roles of race and gender identity can play in intimate partner violence.
"Kashmire was a black trans man, that is important... We already know that people of color face disproportionally high rates of intimate partner violence and domestic violence," as do transgender people, Collins said. "We're looking at extremely high rates of violence towards black trans individuals."
Collins said the Gay Alliance is partnering with other local groups, including a domestic violence rescue organization, for Thursday evening's open discussion in the wake of Redd's death.
Collins said that transgender people can face added hurdles in seeking help when facing intimate partner violence — including social services that aren't "prepared" to have conversations about gender identity, or the threat of being outed as trans.
Still, Collins said, there are resources that are available for young trans people of color facing intimate partner violence, "You are not alone."