Trump tells DACA recipients not to "worry," after administration told them to prep for "departure"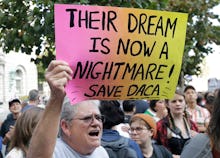 President Donald Trump once again undermined his position on a program that grants undocumented immigrants brought to the country as minors the ability to live and work in the United States, tweeting Thursday morning that they "have nothing to worry about" over their immigration status.
"For all those (DACA) that are concerned about your status during the six-month period, you have nothing to worry about — no action!" Trump tweeted, referring to the nearly 800,000 undocumented immigrants covered under the Deferred Action for Childhood Arrivals program that Trump announced earlier this week he was phasing out.
Trump reportedly sent the tweet at the request of House Minority Leader Nancy Pelosi, who asked Trump to assure DACA recipients they would not be deported within the six-month window, according to multiple reports.
The request came in a Thursday morning phone call Trump placed to Pelosi.
However, DACA recipients shouldn't take total comfort.
In a memo, the Trump administration advised DACA recipients to "prepare for and arrange their departure" from the United States. The administration also stopped accepting new applications for the program on Wednesday, and advised all current recipients that their renewals must be received by Oct. 5.
That's led DACA recipients — many of whom were brought to the United States as young children and don't know their home countries — to panic about their ability to remain in the country and be able to legally earn a living.
Trump, however, has repeatedly undermined his decision to end DACA, saying he would revisit the issue if Congress fails to come up with a legislative solution in the six-month window he provided.
"Congress now has six months to legalize DACA (something the Obama administration was unable to do)," Trump tweeted Tuesday, hours after announcing the end of DACA. "If they can't, I will revisit this issue!"
And on Wednesday, in a gaggle aboard Air Force One as Trump headed to North Dakota for a speech, he suggested he would take action if Congress failed to act on DACA.
"Congress, I really believe, wants to take care of this situation," Trump said. "I really believe it — even very conservative members of Congress. I've seen it firsthand. If they don't, we're going to see what we're going to do."